Worcestershire paceman Matt Mason retires from cricket
Last updated on .From the section Cricket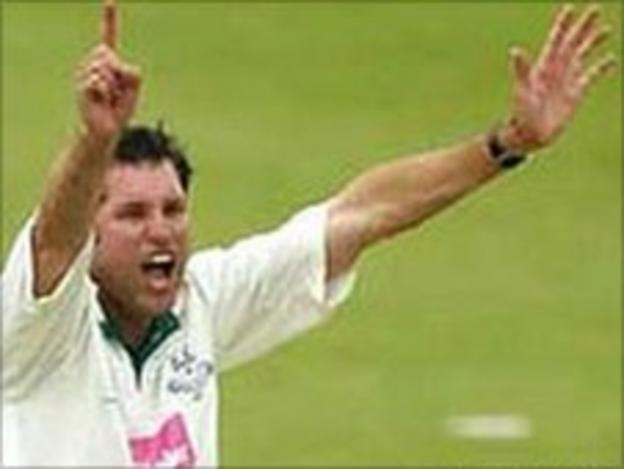 Pace bowler Matt Mason has been forced to retire from first-class cricket after 10 seasons with Worcestershire - at the age of 37.
The Western Australian, brought over from grade cricket by then Worcestershire coach Tom Moody in 2002, has proved a big hit at New Road.
But injuries limited him to 314 first-class wickets in his 98 games for the county, at an average of 26.91.
And he has finally been forced to quit by a longstanding shoulder problem.
"It is with a great deal of pride and more than a hint of sadness that I have decided to retire from cricket with immediate effect," said English-qualified Mason.
"The ongoing battle I have had with my shoulder, since a major operation in 2008, has finally taken its toll and has brought about this decision.
"The decision to accept Tom Moody's offer to play cricket for Worcestershire back in 2001, after initially turning him down, has proven to be the right one as it is my 10th season as a Worcestershire cricketer.
"During this time I have managed more than 300 first-class wickets which I never thought I would achieve.
"Opportunities in one-day cricket during recent years have been few, but back-to-back Lord's finals in the C&G Trophy are amongst many memories I will cherish.
"Worcestershire are a very special club, run and supported by very special people."
Mason, who first began a dual role as a player-coach two seasons ago, will stay on at New Road, to work full time with the county's clutch of promising young seamers.
"Matt has been a very dedicated player," said Worcestershire director of cricket Steve Rhodes. "His enthusiasm for the game was there until the very end.
"I am sure that he will approach his coaching career in the same manner."
Mason added: "The past two seasons as a player/bowling coach have been very rewarding. But now to have the full-time role of bowling coach presents me with a great challenge.
"The prospect of nurturing our current crop of talented young bowlers as well as unearthing future stars is exciting and I'm looking forward to contributing to Worcestershire's future success, only now it won't be with the ball in my hand."