Jonathan Agnew column

By Jonathan Agnew
BBC cricket correspondent at the Rose Bowl
Last updated on .From the section Cricket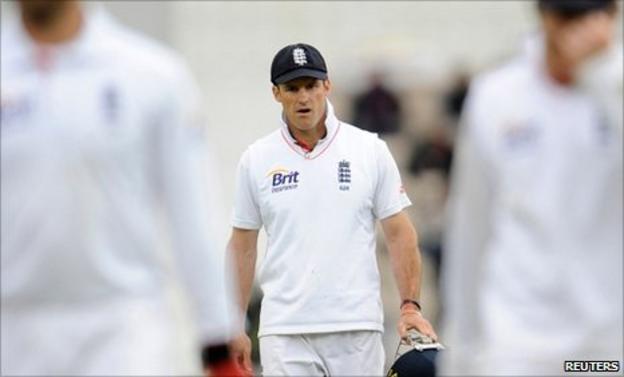 England's three-Test series against Sri Lanka may have been blighted by rain but there were plenty of positives for Andrew Strauss's men, as well as one or two causes for concern ahead of the visit of top-ranked India later in the summer.
SKIPPER'S STRUGGLES
Andrew Strauss had a poor series against the Sri Lankans but he has time to get some form. He will have a bit of a break and then get out there and get some runs.
He will be facing a left-arm seamer of high quality in Zaheer Khan and I'm sure he will be practising hard in the nets and with bowling machines to improve his technique against that type of bowling.
There's no crisis with Strauss but it's never a healthy situation for a team to be in when your captain is struggling for runs. The whole team operates much better when the captain is in form.
THE HISTORY BOYS
Alastair Cook goes from strength to strength and it is fitting that he will go into the India series on the verge of a record-equalling seventh consecutive 50.
The transformation in his form is all down to footwork. When he comes down the pitch at the ball with his right foot coming forward he is a wonderful player. When he sticks that foot across the stumps, as he was doing this time last year, he is all over the place.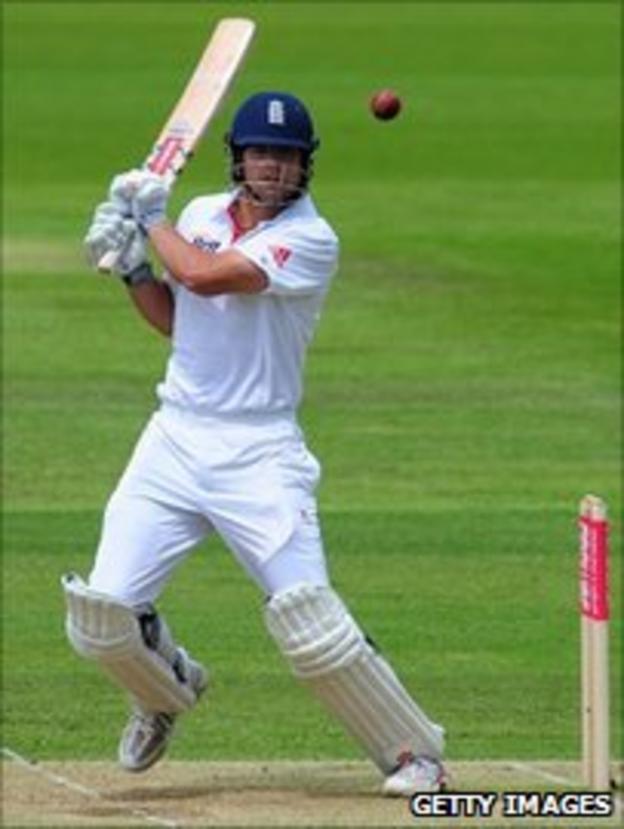 He recognised that he could have been more positive than he was at Lord's and you saw that at the Rose Bowl when he played forcefully and got out to a shot that he wouldn't normally have played. To get to number one, the batsmen are going to have to be able to free themselves up.
Meanwhile, Ian Bell is just made for number five. He plays at a lovely speed and has batsmen around him now. Eoin Morgan is slightly more unconventional so he can operate well with the tail-enders, whereas Bell can just go in at number five and bat.
Aesthetically, he is the prettiest player England have had for a long time. I always loved Michael Vaughan's cover drive but I think Bell's is every bit as good.
As a person he is much more comfortable with himself. He used to fret and worry, but he is much more relaxed now. He is married now, and when you get some stability in your life, it doesn't matter what you do, you just do it better, and in his case he is batting very well.
DISPELLING THE DOUBTERS
It was a big series for Kevin Pietersen and he got two good scores. But what was most important was the way that he played in that 85 at the Rose Bowl. It is a shame that he got out before his century, but he will feel much more confident about things and people will leave him alone a bit now.
He is never going to be everyone's cup of tea but I don't think we need to worry too much about his relationship with coach Andy Flower. I don't think there was quite the ill-feeling surrounding Pietersen's departure from the World Cup that we were led to believe.
Morgan has entirely justified the decision to select him ahead of Ravi Bopara, and he worked hard to fill Paul Collingwood's shoes in the field. I like the way he played at the Rose Bowl - it was a Morgan Test innings rather than a Morgan one-day innings. It was very clinical and he just looks a really good player.
I remember talking to some of the Irish players about him and they were amazed that anyone had any doubts about whether he could make the step up to Test cricket. I think we have now seen a couple of examples of why he is good enough.
PRESSURE ON BROAD
I think Stuart Broad Has probably done just about enough to keep his place, but he does need to get some wickets under his belt.
He will play in the Twenty20 game and the one-dayers but I would also love to see him get a county game in before the first Test.
He looked transformed when he got the Mahela Jayawardene wicket on Sunday evening but then he didn't bowl very well again on Monday.
He needs to go out and get a five-wicket haul in county cricket and just relax a bit, because if he doesn't there are some serious contenders queuing up to take his place, with Graham Onions and Tim Bresnan chief among them.
NEW BALL ATTACK
Chris Tremlett and James Anderson provide such good variety and are emerging as one of the best new ball partnerships around.
Tremlett is someone who no batsman in the world would enjoy facing and he has already softened up India last time they were here. They know all about him and they won't relish facing him again.
James Anderson just needs that little bit of breeze to swing the ball - they are an ideal opening combination.
FOUR-BOWLER STRATEGY
England still miss having a fifth bowler. They can chuck the ball to Jonathan Trott all they like but he is a sixth bowler at best. They do miss Collingwood just to come in and add a little spell of cutters or seamers.
The selectors seem absolutely fixated on playing four bowlers, but if India rattle up a lot of runs in that first Test, they will be under pressure to look at that strategy.
To get to number one you must be positive and flexible, and until England do both of those things they will remain short of that ultimate goal.
Listen to Jonathan Agnew and Geoff Boycott's review of each day's play on the TMS Podcast page.