'Pressure' spurred Kevin Pietersen on
Last updated on .From the section Cricket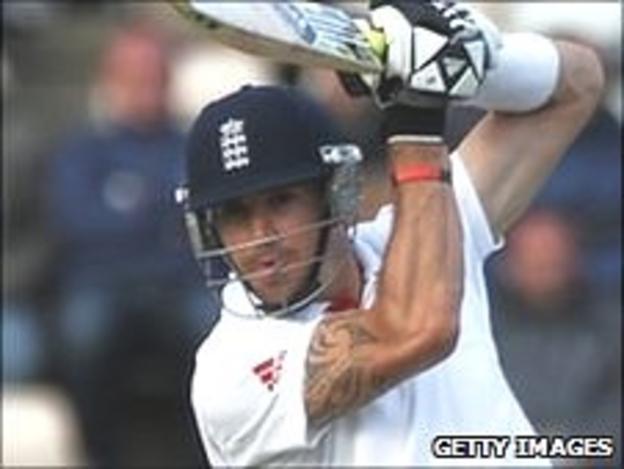 Kevin Pietersen said the "pressure" he was under spurred him on to make 85 on day three of the third Test against Sri Lanka at the Rose Bowl.
Before hitting 72 in the second Test at Lord's, Pietersen had only passed 50 twice in his previous 11 innings.
"It's an innings that I've been thinking about and needed at a time when there's been a lot of pressure on me," said the 30-year-old.
"I've taken that pressure and used it as a positive."
After Sri Lanka were bowled out for 184, Pietersen shared stands of 106 with Alastair Cook and 71 with Ian Bell to help England reach 195-4 at the close in Southampton, a lead of 11 runs.
"There was a lot more pressure on me at Lord's but I used that to my advantage," added Pietersen. "You go back to basics, hit the ball in straight lines, which is what I do best. I felt at my best today.
"When I'm at my best I play straight, hit the ball down the ground and that's what I've done here. I'm lucky enough and tall enough to be able to play through the line on this wicket."
The Surrey man fell short of what would have been his first Test century in England since 2008 when he edged Thisara Perera to wicketkeeper Prasanna Jayawardene two overs before the close.
"I wasn't chasing quick runs, it was a half volley," said Pietersen. "My plan was to hit anything under my eyes. It was in my area but the bounce did me a little bit."
Meanwhile, umpire Rod Tucker admitted to a "small error", after some of the Rose Bowl crowd appeared to take out their frustrations with the bad weather on the officials.
Spectators were angry at a slightly late resumption, thanks to the rescheduling of the tea break, on a day when a succession of heavy downpours meant only 51 overs were possible.
Tucker said on BBC Radio 5 Live: "In hindsight we did make a small error in that we could have started tea straight away when we came off.
"People like to pay their money to get the chance to yell at umpires occasionally."