Katich criticises Australian bosses after being dropped
Last updated on .From the section Cricket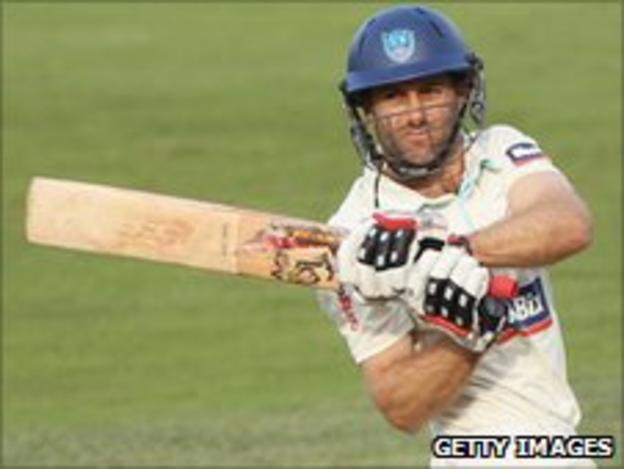 Simon Katich has launched a scathing attack on Australian cricket selectors after he was left off their list of 25 centrally contracted players.
The 35-year-old batsman, who has scored 4,188 runs from 56 Tests, said the decision to drop him was solely to do with his age and not his form.
Katich insisted that he will play for New South Wales but his omission marked the end of his international career.
He said: "I think the decision was absolutely ridiculous."
Katich continued: "I'm extremely frustrated and disappointed about the decision and I also want to make it clear that I'm not the only player who has gone through this in the last couple of years due to inconsistent selection policies.
"To be given the reason that it is because the opening partnership needs to bed down for 2013 [Ashes series] when it's been one of the bright spots of our team the last two years - I find it very hard to believe."
Katich was dropped from the national squad in 2007 and told that his Test career was all but over. He responded by breaking the record for runs scored in the domestic Sheffield Shield (1,508), earning a recall for Australia.
The opener has been one of Australia's best performing batsman over the last couple of years and stated that he had been told of the decision to end his 12-year association with Cricket Australia in a four-minute telephone conversation with chief selector Andrew Hilditch.
Katich also said the inconsistency of the selectors had contributed to the Ashes debacle, when England won a series in Australia for the first time in 24 years at the turn of the year.
He added: "There have been so many guys looking over their shoulders worrying about whether they would be selected. And if you compared that to how England prepared, they were settled and no surprise they had a very good campaign."
Cricket Australia chief James Sutherland stated that Katich was a "fantastic player" who still had a lot to offer Australian cricket as a player, but also gave full backing to the selectors.
Sutherland said: "I can understand that he is extremely disappointed at the news he received and I really do sympathise with him.
"But I reject any criticism of the selection panel in terms of individual integrity or the collective integrity of the process they go through in making decisions about the best squad for the future of Australian cricket."