Jonathan Agnew column: Alastair Cook passes another milestone

By Jonathan Agnew
BBC cricket correspondent at Lord's
Last updated on .From the section Cricket
The fifth day at Lord's was another milestone in the remarkable career of Alastair Cook.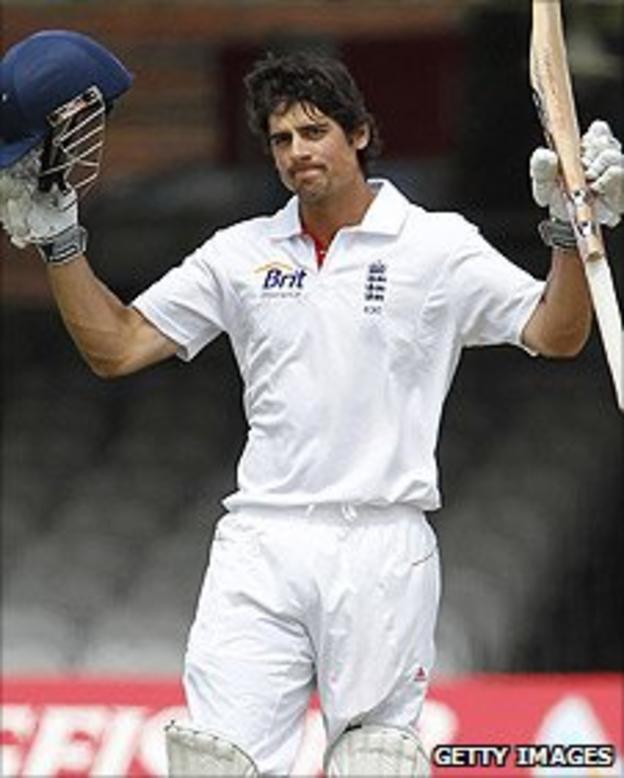 He is only 26 years old and he now has 18 Test hundreds. He is only four off the record number of England centuries now and because he has another 10 years in the game he is going to break every record.
There were a few murmurs today about him batting too slowly, but I think he is batting beautifully and people should appreciate what a special talent he is.
I do have one concern however. After lunch, he consciously tried to change gear and he didn't look entirely comfortable doing that, which suggests he is going to have to work at his one-day game now that he is captain of the England side in that format.
Indeed, I really hope he starts the one-day series well because people are going to be analysing his performance very closely. There are going to be a lot of distractions that could knock him off his stride and you don't want anything that would put him off his form.
Led by Cook, England batted well on the fifth day, but I do think they might have shown a bit more initiative generally.
If you want to be number one in the world, you don't throw caution to the wind but you do show a bit more belief in what you are going to do. I'm not sure if Andrew Strauss has quite worked out what it takes to achieve that top ranking. He could have declared much earlier. It was still a safety first declaration, rather than a bold 'we are going to show you what we've got' declaration.
England were OK in this Test match but nothing more. The batting was good and it was great to see Pietersen getting some runs. He was out to an unplayable ball, which he didn't pad away because he was looking to play positively and press on. Hopefully it will take a bit of heat off him for a while.
But the England bowling hasn't been consistent. They have got to work out what they want to do because unfortunately their most successful bowler, Steve Finn, has also been their least consistent. He took wickets but he sprayed it around again today and I expect he will be the one to miss out when Jimmy Anderson returns in Southampton. England have got to bowl better at the Rose Bowl because I don't think the seamers will get a huge amount of help down there.
As for "Windowgate", the first thing to say is that the broken window could have been nasty for the people underneath, and thankfully no-one was seriously hurt. But I thought the ECB's handling of the situation was bizarre. To put out two statements was crazy really and they made the situation worse than it needed to be.
So now we head to the Rose Bowl for their first ever Test match and it is great for them that the series is still alive because they need to sell tickets. They have wanted it for a long time, they have improved access to the place, done what was asked and I hope it goes well for them.
But I just hope they don't roll out a pudding of a pitch because we need to have something that allows entertainment. It is always tempting in your first match to roll out something that lasts five whole days. I hope they produce something that is worthy of Test cricket now that they have joined the club.
Listen to Jonathan Agnew and Geoff Boycott's review of each day's play on the TMS Podcast page