Jonathan Agnew column: Chance for Pietersen to hit back

By Jonathan Agnew
BBC cricket correspondent at Lord's
Last updated on .From the section Cricket
The match situation in the second Test at Lord's presents Kevin Pietersen with the perfect opportunity to bury his ghosts and gremlins and get the score that will take the pressure off him.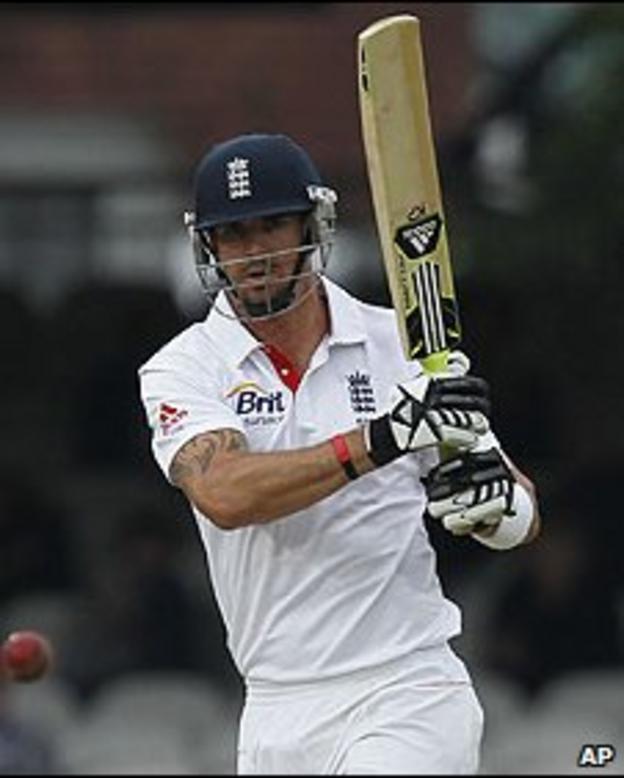 He finished Monday undefeated on 15. Apart from one shot straight down the ground, he has played left-arm spinner Rangana Herath very carefully and precisely - and that is great to see.
He received a bit of mocking applause from the crowd, which suggested they know there is an issue there and that he is a man who is battling to salvage his reputation. But on Tuesday, with no time issues and no pressure on him for scoring rates, he can just go out there and bat, get a hundred and silence the doubters.
Whether Pietersen gets a big score or not, Sri Lanka can expect to bat again in a no-win situation.
They scored 479 but they lost seven wickets for 107 runs on Monday, which suggests there is some vulnerability in their middle and lower order and there will be some worries in that camp.
England, who currently have a lead of 156, will bat Sri Lanka out of the game, declare in mid-afternoon, put men around the bat and look to spark a collapse as they did in Cardiff.
England know there will be possibilities because it has happened before and they got wickets quickly again on Monday.
It would have to be remarkable though because England would have to bowl a lot more balls in the right place than they have so far in the game.
Indeed, despite taking those seven wickets on day four, England's bowling was very mixed.
I don't think it is this flat wicket that everyone is talking about. On the rare occasions when England got it right, there has been pace, bounce and swing. There is plenty in it for the bowlers but Sri Lanka's just aren't effective enough and England's have been way off line.
Stuart Broad got one wicket but his figures of 1-125 do not make pretty reading and with James Anderson coming back for the last Test, people are going to start speculating about who will make way.
But in my opinion it will be Steven Finn who misses out. He was 12th man in Cardiff and there is a certain seniority to things.
Finally, I have to mention the umpires taking the players off for bad light when the floodlights were on because I think it was ridiculous. There are new rules that state that conditions have to be dangerous and that wasn't dangerous. None of these Sri Lankan bowlers are dangerous.
I think you should only play Test cricket on grounds that have floodlights, and they should be used whenever they need to be used.
Listen to Jonathan Agnew and Geoff Boycott's review of each day's play on the TMS Podcast page