Jonathan Agnew column: England punished for sloppiness

By Jonathan Agnew
BBC cricket correspondent at Lord's
Last updated on .From the section Cricket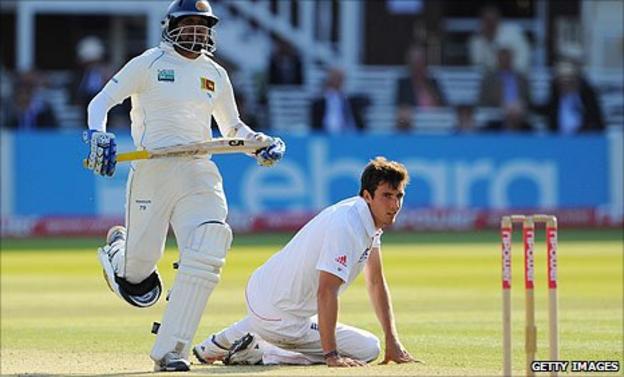 With all the pre-match talk centred around the height of England's pace attack and the potential for hostility and bounce, there was always a danger they might just lose their focus with the ball. That is exactly what happened on the second day against Sri Lanka at Lord's.
It was a very inconsistent performance from the seamers, and Steven Finn in particular, who produced some uncharacteristically wayward deliveries. When you start firing the ball as wide as that down the leg side, there is a problem. You could see his wrist was tilting to the left and the ball was coming out of the side of the hand.
It's not rocket science but it's a problem and he needs to get that right. He is very consistent when he is bowling well but he did not bowl well on day two. Stuart Broad and Chris Tremlett were also not at their best, but I actually think England picked the right bowlers.
They chose the best three available at the moment. They are all tall but they do all offer slightly different things and on a slow pitch tall bowlers can be hugely effective. I just think the selectors have to be more flexible and in these sort of conditions you are looking for a fifth bowler.
Once again, it was evident how much England are missing Paul Collingwood - they just lack someone who can come on and bowl a spell or two, offer a bit of variation and give the frontline attack a rest.
They also miss him in the slips corden, where at one point there was Andrew Strauss, Jonathan Trott and Alastair Cook. As a bowler, that trio would not exactly fill you with confidence, and sure enough Cook dropped one that was right in the slot for a simple catch.
I also thought Strauss missed a trick when Finn came out to bat at the end of England's innings.
I think some clever captains in the past would have declared and given Sri Lanka a horrible 20-minute stint up to lunch. The bowlers could have run in with everything to gain and Sri Lanka would have had everything to lose. But Strauss didn't do it. You have to be positive and you have to be flexible if you are going to be a top side. I just felt that, all round, England were a bit off colour.
When the hosts posted 486 there was every chance that Sri Lanka could collapse like they did in Cardiff, but that didn't happen, and huge credit must go to captain Tillakaratne Dilshan.
He made a rather frantic start but that is the way he plays - he takes it on like Virender Sehwag and it is always exciting to watch him.
There's not much more a captain can do when his team has been skittled out and humiliated than bat like that. He got in and played some beautiful shots - he is a fine player with a fighting spirit and England have got to get shot of him early on day three.
Tharanga Paranavitana just quietly kept him company and there is still plenty of batting to come. Sri Lanka can easily get up to England's score, especially if the home side produce another performance like this.
England have the runs on the board and Sri Lanka are 255 behind. At the moment I would still take England's position, but they need to show that this was just a bad day at the office, get out there and bowl better, catch better and be rather more on top of their game.
Listen to Jonathan Agnew and Geoff Boycott's review of each day's play on the TMS Podcast page