Jonathan Agnew column: Eoin Morgan shines against spin

By Jonathan Agnew
BBC cricket correspondent at Lord's
Last updated on .From the section Cricket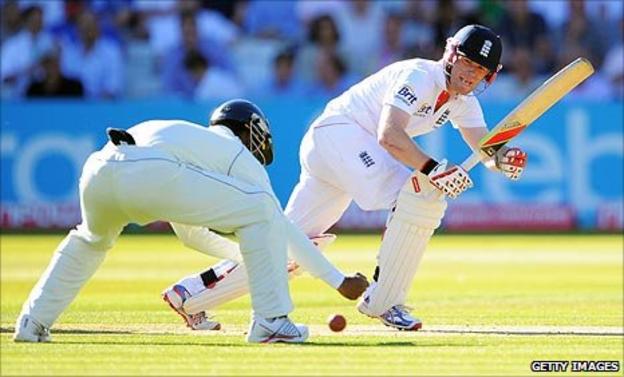 England recovered well from a dodgy start at Lord's and, for me, the best batting of the day came from Matt Prior and Eoin Morgan.
They really took the initiative away from Sri Lanka, who up until then had enjoyed a pretty good day.
Morgan is a clever player and the way he plays the spinners is outstanding. He can do whatever he wants: block them, hit them or place them. He is a huge asset for England.
Prior is an utterly selfless player who just bats for the situation. He is always busy and he always scores runs quickly.
England scored 177 runs in the last session, which is rattling along in Test cricket, and they really finished on a high.
But they needed their middle order to come to the party after making a very disappointing start, with the loss of three early wickets. They were down to poor technique and poor application rather than good bowling.
Kevin Pietersen's dismissal was down to a poor shot - he was searching for the ball, searching for the boundary, and driving on the rise when he had just come in with the ball still new.
He could argue that things are not going his way at the moment, and when things aren't going for you, they continue not to go for you - but it wasn't a good shot and he will know that.
It was the shot of a man who was just desperate to make a good start, and it didn't happen.
People are going to continue talking about his place in the side. To me that is premature but he needs runs, it's as simple as that.
Sri Lanka's bowling was better than it was in Cardiff, their seam attack looked more rounded, although it is still not an attack you would lose any sleep over. There was still a bit too much bowling outside off stump with a 7-2 offside field for my liking. I really don't see the point in that. I don't see how it is going to get people out.
They are missing their main guns in Lasith Malinga, and Murali, but there is nothing they can do about that.
I thought Sri Lanka's over rate was unforgivably sluggish - there is no excuse for not bowling 90 overs today.
It was a beautiful day with not a single interruption, and they bowled 20 overs of spin - so it was crazy that they couldn't bowl them all. When you put a side into bat, you want to show that you are busy and in-your-face, so they let themselves down there.
All in all, the match is brilliantly poised. If Sri Lanka do brush aside the England tail and then bat well they could be in a really good position by the close of play tomorrow.
But you just look at the way their heads were dropping, coupled with the way Prior and Broad batted - and with Graeme Swann to come - England could thrash another hundred in the morning. Suddenly Sri Lanka could find themselves up against 450, and then England will be right in command.
Listen to Jonathan Agnew and Geoff Boycott's review of each day's play on the TMS Podcast page