Aggression key to Chris Tremlett's success for England
Last updated on .From the section Cricket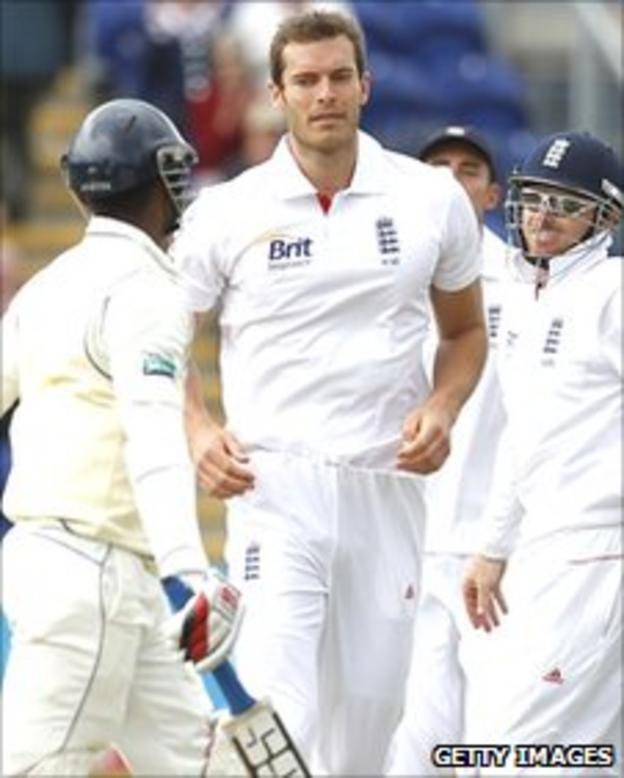 England seamer Chris Tremlett believes he has finally become the aggressive bowler everyone expected him to be when he made his Test debut four years ago.
The 29-year-old played a key role in England's victory over Sri Lanka in the recent first Test in Cardiff.
"In 2007 I tried to be quite aggressive in my Test debut against India," said Tremlett. "Maybe that was a bit forced.
"Now fast bowling and being aggressive is something that comes more natural to me. I have grown as a cricketer."
The Surrey man demonstrated his ferocity in Wales on Monday, utilising pace and bounce to take four wickets as Sri Lanka collapsed to 82 all out in their second innings, giving England a victory by an innings and 14 runs.
He also claimed four wickets on his debut against India at Lord's in 2007, but was subsequently dropped from the squad after the series due to a lack of form and fitness.
He insists that any doubts about his ability to lead the England attack have now been erased following an impressive Ashes series - in which he claimed 17 wickets in three Tests - and his display in Cardiff.
"I went through a spell where I was in and out of the squad. Now I'm in the team and I am a lot more experienced, a lot more hungry, I know my game and body a lot better," he said.
Last week's victory in Cardiff was all the more remarkable given that a draw seemed inevitable after the Test was hampered by rain.
After declaring on 496 on day five, with a lead of 96, England skittled the visitors for 82 inside 25 overs in a stunning afternoon of clinical bowling.
Tremlett is hoping England can continue to demonstrate their ruthless edge when the sides meet at Lord's for the second Test on Friday.
"It was a dull couple of opening days in Cardiff but we came out in that last session and showed how good we are as a team," added Tremlett.
"We showed that we are a team that aren't afraid of kicking the opposition when they're down. That's what we'll be looking to do in this game."
In contrast to England, Sri Lanka's bowling attack was toothless as firstly Alastair Cook (133) and then Jonathan Trott (203) and Ian Bell (103 not out) put them to the sword in the first innings.
Recently, the Sri Lankan attack has been considerably weakened by the retirement of spinner Muttiah Muralitharan - the world record wicket-taker - and unorthodox pace bowler Lasith Malinga.
There is speculation that the Sri Lankan selectors may try to tempt seamer Chaminda Vaas out of Test retirement to strengthen their attack.
Vaas, who retired two years ago after having played 111 Tests, during which he took 355 wickets, is currently playing county cricket for Northamptonshire, where he has taken 29 wickets in division two.
This week, Vaas claimed 10 wickets in Northants' victory over Glamorgan by an innings and 177 runs, and afterwards told BBC Radio Northampton he would consider a return to the Test arena if asked.
"I haven't heard anything but If they call me I would have to think about it," he said. "I retired from Test cricket and I had no intention to come back and play but if they call me I'm always ready to give 100% for my country.
"I always believed that youngsters should play Test cricket. Sri Lanka has to go forward. You can't always depend on Murali or myself to win a Test match."
Muralitharan has told BBC Sport he will not come out of retirement to play for Sri Lanka in the current series against England.
The 39-year-old, who took 800 wickets in 133 Test matches between 1992 and 2010, will play Twenty20 cricket for Gloucestershire this season.
"I enjoyed the last 20 years playing for Sri Lanka and they were very good to me but I think the youngsters will take care of the future of Sri Lankan cricket," said Muralitharan.
Sri Lanka Coach Stuart Law says he intends to stick with the squad he has rather than look to bring in reinforcements.
"We've picked the squad, and settled on it now. To draft someone in might not be the right way to go. I think we've got to put faith in the players we have," said Law.