Will Smith's Twenty20 column

By Will Smith
Durham batsman
Last updated on .From the section Cricket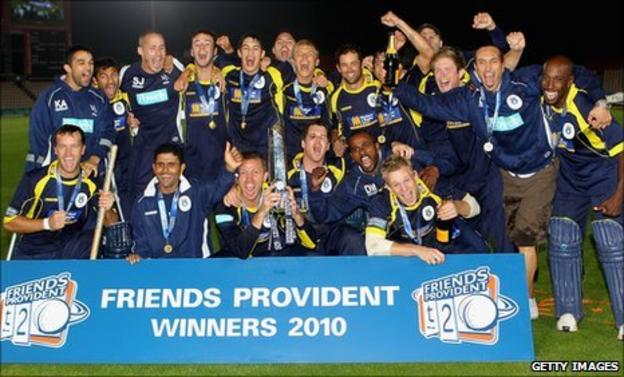 We live in an adrenalin-seeking impatient world, where sports fans are always on the lookout for their next fix.
It is hard to name a sport that is exactly the same now as it was 10 years ago.
Cricket, that most traditional and dearly held pastime, has not escaped this evolution - in fact it is arguably one of the most affected by today's unquenchable thirst for thrills.
Witness the advent and continued rise of Twenty20.
As a player, I have experienced by far the most extreme adrenalin rushes (sky-diving and bungee jumping apart) when playing Twenty20.
As a green youngster, playing in Twenty20 finals day in front of a packed crowd at Trent Bridge, I took perhaps the best catch of my life in the semi-final against Surrey, then went on to hit the last ball of the final baseball-style for six.
I ended up on the losing side, but for sheer buzz, that day has not been surpassed.
In any sport, success mixed with longevity is the pinnacle, but there is something untouchably seducing about pulling off a wonder moment in front of a large crowd.
Unless you are playing international cricket regularly, the domestic Twenty20 tournament is the place to achieve this.
It all begins on Wednesday with a repeat of last year's pulsating final between Hampshire and Somerset, followed the day after by our first game on Thursday. I can't wait.
In 2008, with the help of the unequalled Shaun Pollock and the incredible Albie Morkel, Durham reached Twenty20 finals day. Since then we have not reached the same heights. We are hoping 2011 sees a return to that kind of form.
While there is no Pollock or Morkel this year, the exciting and bright young South African talent David Miller joins us as overseas player.
I have seen a little of him and what you can guarantee is that he will not die wondering! A skilled and aggressive batsman, he will have an energising effect on our squad.
Energy is a key word when assessing a team's effectiveness for Twenty20, and we have an abundance of it in our squad. Youngsters such as Scott Borthwick and Ben Stokes could play a big part.
When allied to the experienced and cool heads of Dale Benkenstein and Gareth Breese amongst others, then you have the potential for a winning combination.
One thing that remains clear, as emphasised by the recently finished IPL, is that spin is most effective in Twenty20.
Whether it be as a wicket-taking threat, or as an economical tool, good spinners are absolutely vital to any successful Twenty20 team.
We have four such options - Ian Blackwell, Breese, Borthwick and, dare I say it, myself.
I believe we have options aplenty with bat and ball, and under the astute and cool leadership of Benkenstein, our turn for Twenty20 success could just be nearing.
You can follow Will on Twitter.