Stephen Moore column

By Stephen Moore
Lancashire and England Lions batsman
Last updated on .From the section Cricket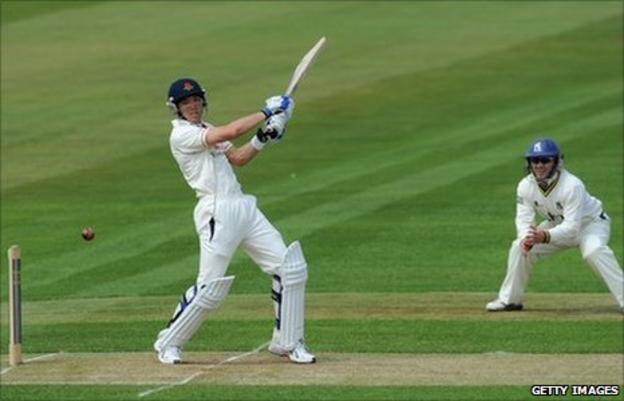 Every year, the season seems to pass faster than the previous one did.
It is hard to see why, given that we are continually developing technologies that are supposed to make our lives easier, and in sport we endlessly discuss schedules to provide more recovery time for athletes while trying to satisfy the needs of clubs, supporters and sponsors.
However, despite our best efforts, time seems to be at ever more of a premium .
For the last three weeks, my time has been spent either on the field of play, travelling on a bus, or sitting in a pool completing a myriad of different stretches to aid rehabilitation (but at times it is more an exercise in attempting not to ingest the entire contents of the tepid pool).
It would be safe to say that 2011 will not be a breakthrough year in synchronised swimming for the 'Red Rose' team.
And while it has been another successful few weeks for us, things are going to become very interesting in the next month as the Friends Life Twenty20 competition starts.
This is where finding time, and the ability to adjust, adapt and evolve as a squad, becomes paramount. We will have to be ready to go after three County Championship matches in a row, straight into two T20 matches without so much as a day to prepare.
On the face of it, this might seem simple - it is still cricket, after all - but it throws certain unique challenges into the path of the modern English county cricketer.
In the last few weeks, I have delved into the world of Twitter.
It is said that this medium has the power to effect regime change or dismantle super-injunctions, as he-who-cannot-be-named has recently found out. But I am battling with what to me is a new language, or to be more accurate, a different way of thinking.
I mention this because the ability to hold an articulate extended conversation and then also express oneself in no more than 140 characters is in some way an analogy for what is to come in the next section of the county season.
Championship cricket is about patience and discipline as you have four days, weather permitting, to find a way to win.
T20 is about having the flamboyance and expression to overcome the opposition in a matter of three hours. During the next three weeks we will be switching on several occasions between championship cricket and T20 cricket, and we will have to be at our adaptable best to ensure we start each day with an edge over our opposition.
Although this part of the season will bring these new challenges, it also brings new crowds to cricket grounds around the country.
Every professional cricketer lives to play in front of packed stadiums, and T20 affords us the best opportunity to enjoy the razzmatazz of the festival atmosphere and showcase our skills to a whole new demographic.
It is a fun time for all. However, with time at a premium and people's purses being squeezed tighter by fiscal cuts, it seems sensible to reduce the amount of T20 cricket played to afford players more time to recover, as well as allowing families to budget to watch a handful of well contested games with all the accompanying entertainment and family activities.
As the success of Twitter might suggest, sometimes less is more.
You can follow Stephen on Twitter at: http://twitter.com/stephen_moore6