Martin Guptill excited by Derbyshire T20 campaign
Last updated on .From the section Cricket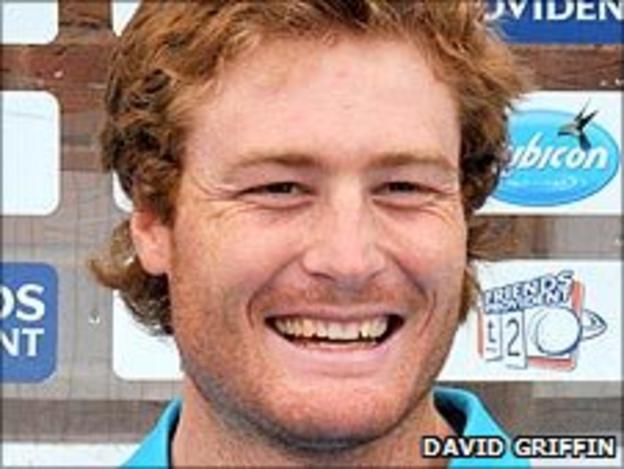 Derbyshire batsman Martin Guptill says he is excited about the prospect of spearheading the FL t20 campaign.
The New Zealander will open the batting for the Falcons in the shortest form of the game this season, starting with Thursday's home game with Lancashire.
Guptill said: "It's going to be a great competition. Twenty20 is always fun.
"There is always a little bit of crash and bash but there are some great tactics involved with it as well. It's going to be a fantastic competition."
The 24-year-old, who has played 15 Tests, 52 ODIs and 23 Twenty20 internationals for New Zealand, only scored nine on his debut in the county game against Surrey on Sunday.
But Guptill says he will be ready to open the batting when Lancashire visit the County Ground.
"I am still getting used to the time zone difference but I'm not too far away from that and in a couple of days I will be fine," Guptill added.
"Twenty20 is about picking the balls to hit and backing yourself to execute it properly.
"You have also got to be looking to tick over the strike and that is a whole new skills-set to hitting the boundaries. All batsmen have got to be adaptable to different situations."
Derbyshire skipper Luke Sutton was equally excited about the upcoming tournament.
"Players have embraced Twenty20 ever since it started and every year that excitement is there in the days leading up to it," Sutton said.
"This year is no different and we are really looking forward to it.
"When it first started everyone thought it was a bit of crash, bang, wallop with no skill involved and no tactics.
"I remember the first year we played in it, nobody really knew what they were doing. But with the fact that it's now played on the international stage and with the IPL, Twenty20 is a game of high skill with huge tactics involved.
"Teams are highly prepared for it and it's going to be a really intriguing tournament. There will be some very big match-ups and I think we'll see some great cricket."