Jonathan Agnew column: Jonathan Trott beyond criticism

By Jonathan Agnew
BBC cricket correspondent in Cardiff
Last updated on .From the section Cricket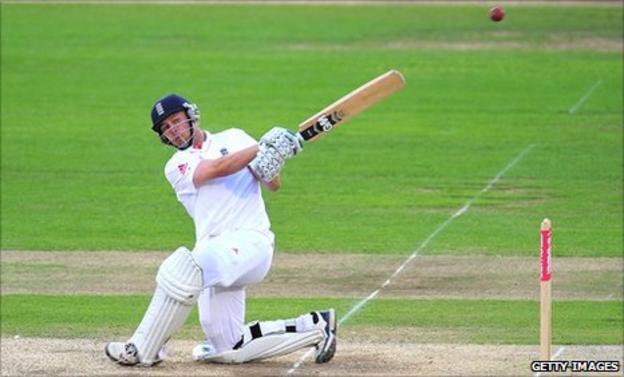 Jonathan Trott's double hundred perfectly illustrated the qualities that make him the number three batsman England have been seeking for so long.
He's very disciplined, he has tremendous focus, he's got a very fine technique and he's certainly got the right character for Test cricket.
He blocks out everything going on around him. When he came out at 47-2 in reply to 400 clearly a lot of application was required and he's just the sort of person to provide all those qualities.
Some people have suggested he might have scored more quickly but he's just not that sort of player - he's someone who gets into the groove and that's the way he bats.
Some fans find that a bit frustrating but you are what you are. I've seen Trott play all of his Test matches, I've seen him score an awful lot of runs, and he does tend to bat at the same pace.
This is underlined by the fact his first hundred came at 196 balls and his second from 202.
For a long time England have been looking for a number three to get out there and score double hundreds and now they've got one.
On Sunday the Sri Lankans bowled at him with a seven-two field, all packing the off-side, and they bowled wide of the off stump, so it was quite difficult for him to whack the ball around.
They also had Rangana Herath, the left-arm spinner, bowling into the rough from over the wicket and again that's not easy to attack.
With the time taken out of the match by the weather and with James Anderson unable to bowl, England have spent much of this match just looking to make it safe, and that's what Trott's role has been in this game.
The number three position has been notoriously difficult for England to fill over the years - until now.
It's not an easy place to bat, because you can be in second ball or you can come in at 120-1.
That means you have to be a quite flexible player and you have to be someone who can cope with a crisis.
It's difficult to compare him to other England number threes, not least because they really haven't had a successful number three for a while.
That's why they're very grateful to have him and I'm sure he will score a mountain of runs.
England have been crying out for someone to bat like that and now they've got one I certainly wouldn't be criticising him.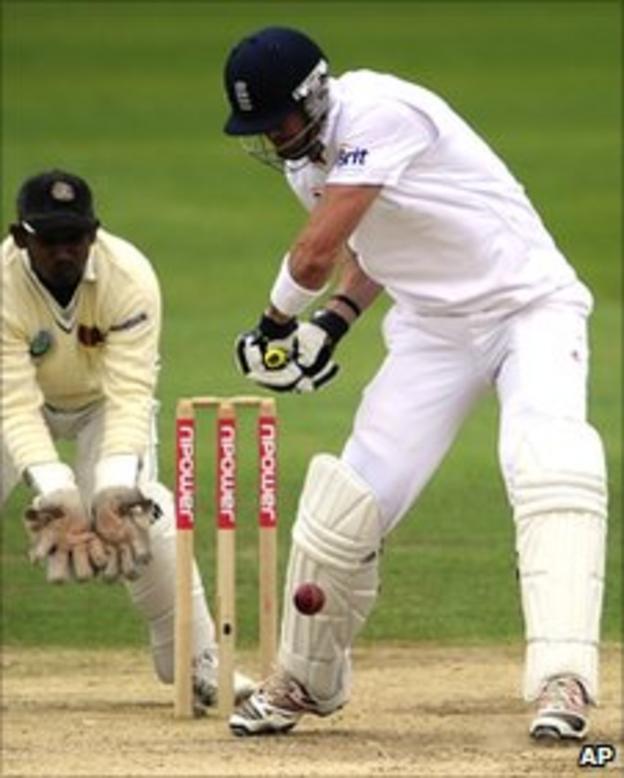 If Trott had a fine day then his fellow middle order man Kevin Pietersen had anything but, as yet again a left-arm spinner got him out.
Again he played a poor shot to be dismissed, but there was a lot of talk about the review process that brought about his dismissal.
Should there be any form of benefit of the doubt with the use of technology? Well, probably not people would argue, or there's no point in having it.
But to take five minutes or so to give someone out, or not, would clearly suggest it isn't entirely clear cut.
I think Pietersen was unfortunate. Having looked at all the information I think he was probably correctly given out, but that's not to say he was not unlucky, and I think he was unlucky.
The ball kept low and it just grazed his pad before hitting his bat, so from that perspective you've got to say he was unfortunate.
However, this question of left-arm spinners getting him out is a live one.
He always shrugs it off and says it's a load of rubbish but the stats tell you otherwise - 19 times out of the last 64 innings is nearly one in three.
The fact is he hardly faced any left-arm spinners before he was finally dismissed in his 34th Test by one.
He just seems to have a problem with it. I think he's so hell bent on showing he hasn't got a problem and that he's going to hit him around and prove everybody wrong, that he's actually getting himself out.
And the truth is he does get himself out to left arm spinners, rather than them getting him out, all too often.
I agree with Geoffrey Boycott, I think he has to accept that there is an issue there, start working hard and try and eliminate it.
He isn't going to say publicly that he's got a problem but I think he has to accept that it's clearly something he needs to work at.
Listen to Jonathan Agnew and Geoff Boycott's review of each day's play on the TMS Podcast page