Cook and Trott confident despite Anderson injury
Last updated on .From the section Cricket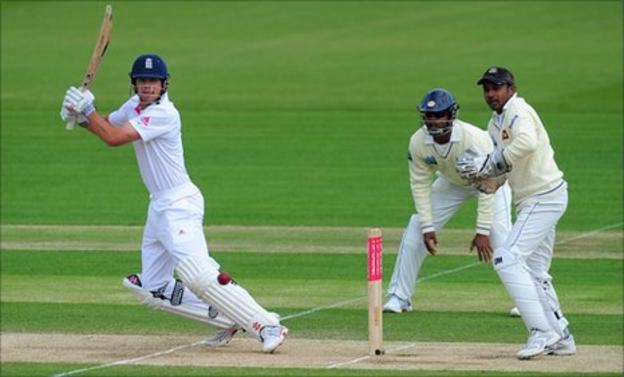 Alastair Cook and Jonathan Trott are confident their partnership can propel England to victory in the fourth day of the second Test against Sri Lanka.
The pair battled to reverse England's fortunes to reach 240 on another rain-interrupted day in Cardiff.
Cook, whose 129 was his fourth Test century in the last six Tests, said: "It's been a good turnaround for me.
"We're putting ourselves into a good position to win this game. I hope I can go on and get some more runs."
The early wicket of nightwatchman James Anderson - who it was later confirmed will sit out the remainder of the Test with a side strain - saw Cook and Trott united at the crease with England on 47-2, still 353 runs behind.
Rain had delayed play until 1400 BST but the pair showed patience before exerting their authority against a toothless Sri Lankan attack.
Trott was unbeaten on 125 to leave England 287-2, trailing the tourists by 113.
"We think Jimmy feels a little bit better today and if he can keep on resting on Sunday then [he may be fit for the second Test on 3 June]," said Cook.
Cook, crucial to England's Ashes glory in Australia in the winter, admitted he was glad to get straight back into the groove of playing for his country in England's first five-day outing since January.
"We don't just want one good series and then die down," he said. "We have got off to a good start and we are trying to constantly remind ourselves that the Ashes have gone."
Trott, who was equally disciplined at the crease, bagged his third ton in the last half a dozen Tests, adding to his extraordinary Test average.
Trott said: "As a statistic it's very pleasing but it's about winning games. Sri Lanka got more than we would have liked but we need to push on.
"We need to build on what we created today. The pitch will do more in the morning so we need to score more than them."