Jonathan Agnew column: England are missing Collingwood

By Jonathan Agnew
BBC cricket correspondent at Cardiff
Last updated on .From the section Cricket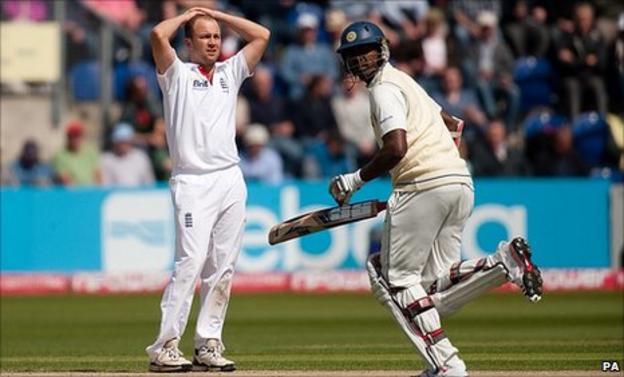 England were a bit sloppy on the second day of the first Test in Cardiff and they definitely did not look as sharp as they did in Australia over the winter.
They actually bowled pretty decently, and lots of things did not go their way but I counted five missed chances, and the one person whose name kept springing to mind today was Paul Collingwood.
When he retired after the Ashes, I think England thought they would miss his gutsy batting, but it is the other aspects of his game that they are missing most.
They miss his brilliant fielding in the slips and at point, and above all, they miss him as somebody who can bowl five or six tidy overs and give the seamers a rest.
On today's evidence, Jonathan Trott really does not look as if he is capable of filling that role in the side, and he bowled very poorly after lunch when England were looking for a bit of control.
England seem determined not to pick five bowlers, but you wonder whether they can really persist with the strategy, because they really have nothing beyond their frontline four at the moment.
I do not mind England playing four bowlers on some occasions, whether it be due to the pitch conditions or the standard of the opposition, but they seem to be rigidly sticking to it no matter what, and that is a bit disappointing.
There are times when you should be picking five bowlers, and in early-season conditions like this you need to have strength in depth.
I do not think the Sri Lanka attack is up to much, and even with Matt Prior moving up to six, England should have more than enough batting to cope.
Wickets win matches, and the fact that England do not have a bowler to give the main seamers the respite that Collingwood gave them is something I would be troubled by.
Turning to Sri Lanka, I have been very impressed by the professional manner in which they have performed in cold and windy conditions.
A couple of years ago, West Indies captain Chris Gayle set a terrible example to his team-mates by burying himself under sweaters, putting his hands in his pockets and looking like he was hating it.
But Sri Lanka have got stuck in and got on with it, and they look a very impressive side to me.
Their first-innings total of 400 has put a lot of pressure on England, who are 350 behind and cannot afford to have any slip-ups.
There are lots of scenarios still possible in this match but Sri Lanka are on top at the moment and England need to make sure they are batting at the close of play on Saturday.
Jonathan Agnew was speaking to BBC Sport's Sam Sheringham.