Glamorgan paid £2m for England v Sri Lanka Test
Last updated on .From the section Cricket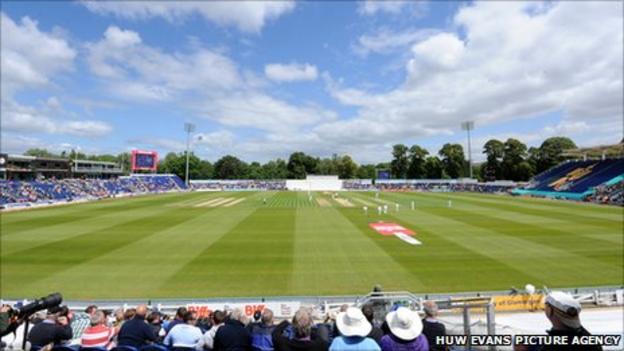 Glamorgan chairman Paul Russell says the county have found it hard to sell England's Test match against Sri Lanka.
Cardiff's Swalec Stadium is currently hosting its second Test having staged England's opening Ashes match against Australia in 2009.
And having bid over £2m for the right to stage the Sri Lanka Test, Russell said selling the game to the public has been challenging.
"It's been hard work. I think we've done a very good job," said Russell.
"To sell Australia all one has to do is answer the telephone. I think we've faced two difficulties here with this game.
"With due respect to Sri Lanka, they are not perceived as an attractive side.
"And secondly we have the conceptual difficulty of establishing Cardiff as a Test match ground."
Russell revealed that staging Test matches at the Swalec Stadium is a vital ingredient in being able to sell lucrative hospitality packages.
"The business model of Glamorgan Cricket generates most of its income through the sale of private boxes [and] business clubs," he added.
"In order to be able to sell those products you have to have Test cricket.
"People do not spend £15,000 a year to watch Glamorgan, with due respect to Glamorgan."
Russell added Glamorgan had successfully bid to stage the Sri Lanka three years ago, before the current economic slow down.
"We bid just over £2million for this game," he said. "The system has changed now. The system of open bidding is no longer extant.
"We have a West Indies Test match next year and the fee for that is less than 25 percent of what we paid for this game.
"We now know the price of the Test matches that are on offer and we can buy them or not.
"There are a series of packages. Each of them contains a basket of games and each of them has a price attached to it.
"You bid for one of those packages and you bid not on financial lines but on criteria such as legacy, community involvement [and] infrastructure.
"We target the ones we really want but the construction of the packages is such [that] to get some of those you really want you also have to take some of those that are less attractive."