'Rude' South African Lonwabo Tsotsobe leaves Essex
Last updated on .From the section Cricket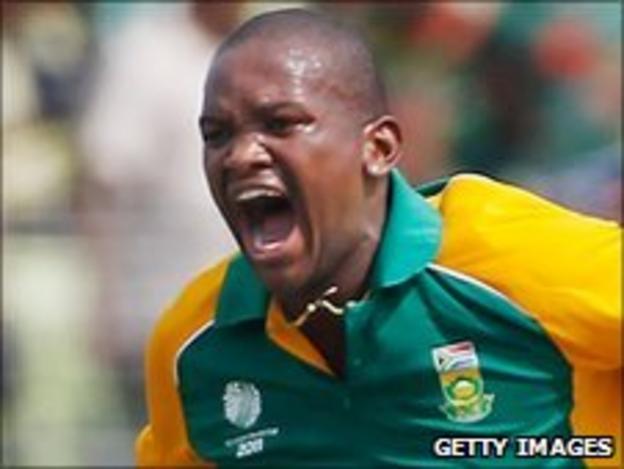 Essex have parted company with South African paceman Lonwabo Tsotsobe after his disrespectful Twitter outburst.
While Tsotsobe claimed it "impossible to work in this environment", Grayson responded angrily by telling BBC Essex: "What he said is downright rude."
But Essex have now confirmed Tsotsobe's exit after five weeks at the club.
"His work rate and attitude hasn't been up to the standard I would expect of someone with his experience as an international cricketer," Grayson told the club website.
"We have given him a great opportunity to come over to England and play county cricket.
"He has to look at himself since being over here and realise that he hasn't made the most of a great environment to play cricket with a good set of players."
Tsotsobe's outburst came on Twitter on Monday in the wake of him being dropped for the previous week's County Championship match with Surrey.
He took five wickets in three Championship appearances at 77.60 and featured in five CB 40 games, going for an expensive average of 6.28 per over.
The South Africa international was the club's third-choice overseas signing after Australian Peter Siddle pulled out of a deal and New Zealander Tim Southee could only commit to Twenty20 cricket.
"Unfortunately he came under prepared, started badly, and unfortunately his confidence has been dented," Grayson told BBC Essex.
"From my point of view he's only got himself to blame."
Essex chief executive David East added: "The club has spoken with Lonwabo about the recent comments he made on Twitter which we considered inappropriate.
"Lonwabo has assured us that his comments were not intended to be derogatory towards the club, and that they have been misinterpreted.
"He has stated that the intention in his tweets was to express disappointment with his own personal performance whilst at Essex."