Kane Williamson eyes T20 momentum with Gloucestershire
Last updated on .From the section Cricket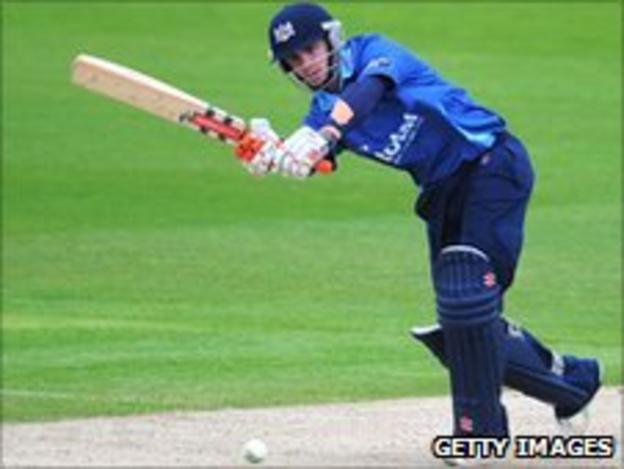 Gloucestershire and New Zealand batsman Kane Williamson says it is important his side get off to a strong start in the FL t20 competition.
The 20-year-old also believes they will be buoyed by the arrival of Sri Lankan spinner Muttiah Muralitharan ahead of the tournament.
He told BBC Radio Bristol: "In T20 cricket you need momentum.
"We can beat anyone on our day so obviously what we're looking to do is to start off strong."
Gloucestershire open their FL t20 campaign at the Oval when they face Surrey on 2 June.
And Williamson, who reached the semi-finals of the Cricket World Cup on the sub continent with New Zealand, says he is looking forward to his first taste of Twenty20 action on English soil.
He continued. "It's an exciting format that everyone enjoys playing.
"You tend to pull the crowds in and obviously we've got the likes of Murali playing and Kevin O'Brien so they're very exciting cricketers. It's always nice having a decent crowd creating a good atmosphere.
"I've had a couple of games against him, [Muralitharan] so I can say now I'd much rather play with him than against him.
"I'm looking forward to learning a bit off him and having him bowling in our side will be great."
Williamson scored his maiden century for the county in last week's draw with Leicestershire, hitting 149 in the first innings at Grace Road.
And he says it has taken time to adjust to facing the seamers in the spring conditions.
"It's a matter of adapting and settling in," he said. "It's something that's very different to me having played a lot of cricket in the sub-continent in the last year.
"Having a few innings under my belt and getting used to the swinging ball - it's about getting used to that and coming up with a formula to combat it.
"I want to get hundreds all the time but it's just a matter of staying calm and playing each ball as it comes. The runs tend to come that way, rather than wanting it too much."
Gloucestershire skipper Alex Gidman also made a century against Leicestershire but the home team hung on on to avoid defeat after following on.
Gidman's side face Nottinghamshire this week in a bid to get their CB40 campaign back on track after two straight defeats in the competition.
Williamson added: "We've got a young side and the likes of Alex the captain and the senior batsmen have played outstandingly and lead the way, so there's some good examples for the young boys to feed off and hopefully do the same.
"I guess [the CB40] is similar to the t20 in a way - you're looking for that momentum in the competition.
"We haven't been playing poor one day cricket but we've probably just slid a little bit from the start of the season, so to attack the next side is the key and try and come away with a win."