Andrew Poynter replaces Niall O'Brien in Ireland squad
Last updated on .From the section Cricket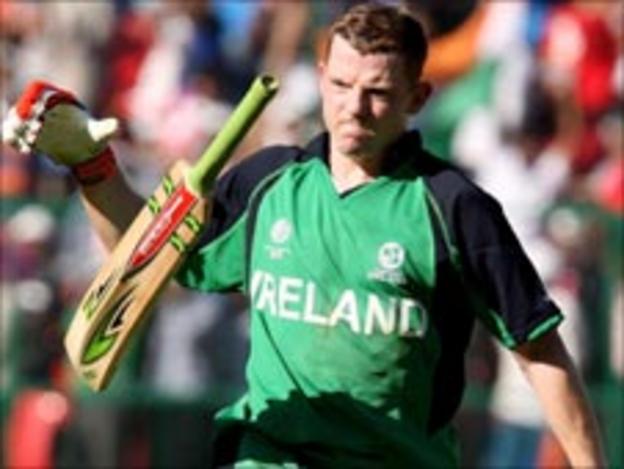 Niall O'Brien has been ruled out of the Ireland squad for the one-day internationals against Pakistan at Stormont on 28 and 30 May.
O'Brien suffered a hairline fracture of his left hand after being struck by Simon Jones during his innings of 121 for Northants against Hampshire.
Andrew Poynter has come into the squad.
"It's disappointing to miss these games as I've good memories of playing Pakistan from the time we beat them in the 2007 World Cup," said O'Brien.
O'Brien was awarded the man of the match award on that occasion.
"I'll have another x-ray in 10 days and would hope to be back playing in about three weeks," added the wicketkeeper.
Ireland coach Phil Simmons described the loss of O'Brien, who sustained the injury on Friday, as "a big blow".
"Niall has been in such excellent touch this season," said Simmons.
"We're lucky in that we have Gary Wilson as a back-up keeper, and Andrew Poynter has never let us down any time he's been called upon," added the Ireland coach.
Strabane's Niall McDonnell is the only new face in the Ireland squad for the two one-day internationals.
McDonnell, a 31-year-old school teacher, scored a century for Ireland A against the MCC last year.
George Dockrell is unavailable because of injury while Andre Botha has retired from Irish duty.
"I can honestly say that I can't find a word to describe how I felt when Peter Gillespie rang me," said a delighted McDonnell.
"I suppose it was a mixture of excitement, raw nerves and a little trepidation at being involved at this level.
"It's a dream come true in many ways and the prospect of batting with the likes of Paul Stirling, William Porterfield or Ed Joyce is some motivation.
"I can't underestimate the role Adi Birrell and particularly Jeremy Bray have played in my development.
"Jeremy is so focused on his new role as one of Cricket Ireland's high performance coaches that his determination and enthusiasm just rubs off on everyone he works with.
"Just being involved with this Ireland squad is an opportunity that I fully intend to make the most of."
Ireland coach Phil Simmons said that this team would prepare well for the two contests.
"We'll train hard in the build-up to the game, and hopefully the conditions at Stormont will suit us.
"The county players have been playing some excellent cricket, and most of them seem to be in really good form which is encouraging for Irish cricket.
"Everyone is aware of the importance of these games, not just in terms of ranking points, but also in the bigger scheme of things with a decision pending on a qualification tournament for the 2015 World Cup.
"Two more strong performances against Pakistan will help in that regard."
Ireland shocked Pakistan at the 2007 World Cup in the Caribbean and they have not met in a 50-overs contest since the clash in Jamaica.
Ireland: W Porterfield (capt) (Warwickshire), A Cusack (Clontarf), T Johnston (Railway Union), N Jones (Civil Service North), E Joyce (Sussex), N McDonnell (Strabane), J Mooney (North County), K O'Brien (Gloucestershire), A Poynter (Clontarf), B Rankin (Warwickshire), P Stirling (Middlesex), A Van der Merwe (YMCA), A White (Instonians), G Wilson (Surrey).