Shane Warne avoids final game ban but is fined by IPL
Last updated on .From the section Cricket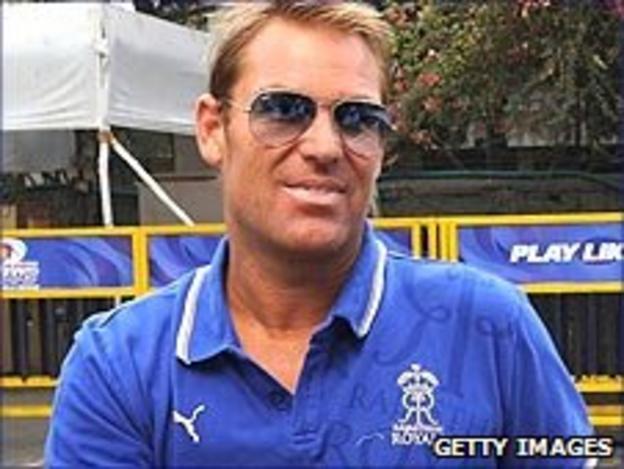 Australian cricket legend Shane Warne has escaped a ban which would have prematurely ended his playing career.
Warne, 41, has been fined about £31,000 after a bust-up with Sanjay Dixit, Rajasthan state cricket association secretary, after a defeat for Rajasthan Royals in the Indian Premier League.
Warne apologised for "any distress" his actions may have caused and appeared at a hearing in Mumbai on Tuesday.
He is due to play his final game as a professional for Rajasthan on Friday.
However, Warne's troubles may not be over, as the Rajasthan association has still lodged a complaint with the Board of Control for Cricket in India (BCCI), owners of the IPL.
The Rajasthan association wanted Warne to be banned for Friday's match, but the BCCI instead chose a fine.
In a statement, the BCCI said the disciplinary commission "regards the public criticism of Mr Dixit as being a serious breach by Mr Warne of his IPL playing contract."
The BCCI added: "However, at the same time, the commission also recognises that Mr Warne has apologised to Mr Dixit, and that the incident occurred just after the match."
The incident occured after Warne expressed displeasure over the playing surface chosen for Rajasthan's last two home matches against Chennai Super Kings and Royal Challengers Bangalore - both of which the Royals lost.
Dixit claimed Warne had been putting pressure on him to provide a "suitable" wicket for Rajasthan's home matches and, after the defeat against Chennai on 9 May, Warne questioned why the home side was asked to play on a different wicket from the one used in previous games.
The back-to-back defeats against Chennai and Bangalore on 11 May dented Rajasthan's chance of advancing to the play-offs and shattered Warne's dream of a second IPL title. The Royals were also beaten by Kochi Tuskers Kerala by eight wickets on Sunday.
Warne will retire from all forms of the game after his side's match against Sachin Tendulkar's Mumbai Indians at the Wankhede Stadium on Friday.