Shane Warne turned Hampshire around - Mascarenhas
Last updated on .From the section Cricket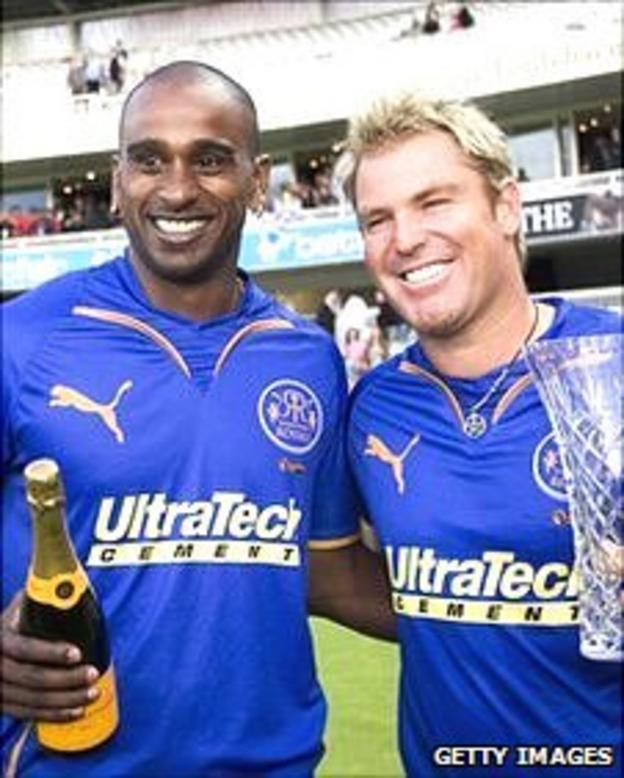 Hampshire all-rounder Dimitri Mascarenhas says retiring Australian spinner Shane Warne helped turn the county into a successful outfit.
Warne, who was at Hampshire from 2000 to 2008, is to quit cricket for good after the Indian Premier League.
Mascarenhas told BBC Radio Solent: "Shane pretty much single-handedly turned us around.
"He was phenomenal not just for me but for everyone at the club and it will be a shame to see him hang up the boots."
Mascarenhas is closing in on a return to first-team action for Hampshire after coming through a second XI game at Northampton this week.
And he spoke fondly of his former team-mate and county captain, who took 276 first-class wickets for the county in his eight years there.
"He made us into a successful team and we've pretty much carried that on," he continued. "I can't say enough about how much he put into this club.
"People say he's the best captain Australia never had and I couldn't agree more. As a captain here, he was just amazing.
"He absolutely loved cricket every minute of the day, and for us to have him around for [eight years] was just amazing. He still loves to see us do well."
Warne took a record 708 wickets for Australia before retiring from international cricket in 2007.
He is currently captain of Indian Premier League franchise Rajasthan Royals.
"His work ethic was unbelievable," Mascarenhas added. "He brought that to Hampshire and if I had to describe him in one word I'd just say 'genius'.
"I personally learned a hell of a lot from him, especially on the captaincy front and in my personal game as well.
"He just did things with that ball that no one else could do and it was amazing to play with him and watch him do his stuff.
"He'll be sorely missed and we wish him well for the future."