No overseas replacement for Scots' Luke Butterworth
Last updated on .From the section Cricket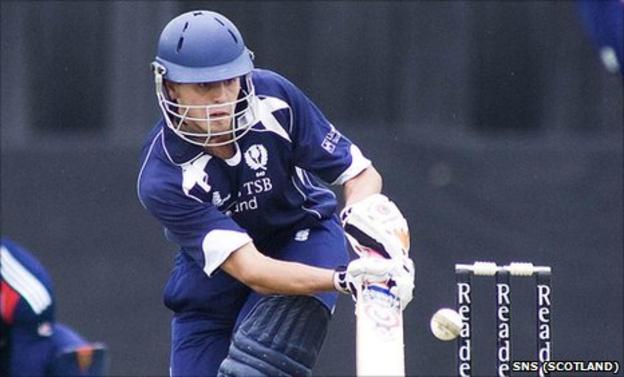 Scotland cricket chiefs say they decided against calling in an overseas professional replacement for the injured Luke Butterworth.
Butterworth fractured a toe in his debut against Durham in Scotland's opening CB40 defeat.
Now they will face Surrey on Sunday 1 May and Warwickshire the following day without an overseas player.
Butterworth and reserve wicketkeeper Simon Smith are replaced with Calum MacLeod and Calvin Burnett.
Cricket Scotland stated: "The selectors have decided not to seek a replacement for Butterworth in order to continue the policy of giving Scotland's young cricketers exposure at this level."
Uddingston all-rounder MacLeod is 22, while Arbroath's Burnett is 20.
Australian Butterworth will miss two weeks with his club, Greenock, and Scotland as he recovers from injury.
Having lost to Durham and Leicestershire in their first CB40 double header, the Scots will look for better fortune at the Kia Oval and Edgbaston.
Scotland: Gordon Drummond (captain), Preston Mommsen (Carlton), Ryan Flannigan, Ewan Chalmers (Watsonians) Oliver Hairs, Gregor Maiden (wk)(Grange), Josh Davey(Middlesex), Richard Berrington(Greenock), Calum MacLeod (Uddingston), Calvin Burnett (Arbroath), Majid Haq (Clydesdale), Matthew Parker (Forfarshire), Gordon Goudie (West of Scotland).