Alviro Petersen scathing of own Glamorgan form
Last updated on .From the section Cricket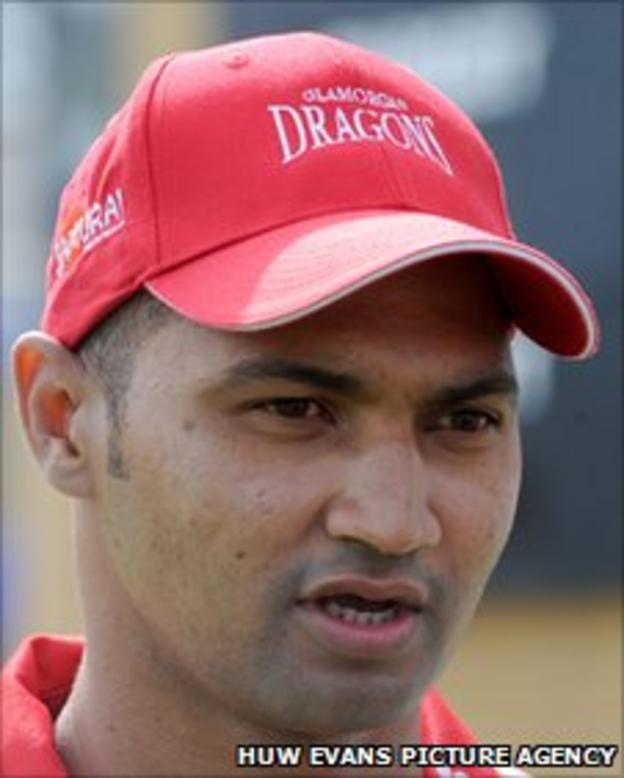 New Glamorgan captain Alviro Petersen says his form in his first five games has been the worst of his career.
Opener Petersen vented his frustration on his Twitter account after scoring just 17 runs on Wednesday in a Division Two County Championship match at Essex.
"I'm playing the worst cricket of my career, people always upset with me, responsibility, some like it when I fail. Can't get worse," he said.
"I will never quit though and will only take those with me who support me."
Petersen's Glamorgan career started promisingly with a score of 91 in his first match for the Welsh County.
But since that first innings in the 89-run County Championship defeat by Leicestershire at Grace Road, the 30-year-old South African's form has slumped considerably.
His highest score has been a 36 in the second innings of Glamorgan's only victory of the season so far, a 189-run County Championship win over Gloucestershire.
Petersen's latest failure came on day two at Chelmsford on Wednesday when was out lbw for 17. His first innings score was 21.
"Its [sic] a lonely place when things aren't going well," he added on social networking site Twitter.
Petersen's appointment as Glamorgan captain in November sparked a winter of discontent at the club which led to the resignation of three key figures, including the displaced skipper Jamie Dalrymple.
The new man arrived in Cardiff with an impressive pedigree, being one of only three South African players to reach a century on their Test debut when he scored 100 against India at Eden Gardens, Kolkata in February 2010.
And after making such a favourable impression with his first innings for Glamorgan, new coach Matthew Mott held him up as an example for all to follow.
"Alviro Petersen's knock in the first innings [91 runs] was a fantastic captain's knock," said Mott.
"It's something that he's going to certainly build on and hopefully the other players around can learn a little bit about the way he went about his business."
But Petersen, who has played nine Tests for South Africa, has found himself in an early-season rut, and BBC Wales cricket correspondent Edwards Bevan believes the new recruit is suffering from a crisis of confidence.
"Since starting with a 91, he's failed in every innings," he said. "He's just feeling low at the moment, but I don't understand his comment about everybody being against him.
"But he's away from his family and in a new club, and I suppose when you're down you tend to think everything's going against you.
"As an opening batsman, there's nothing worse than a string of low scores."