2015 Cricket World Cup is reduced to 10 teams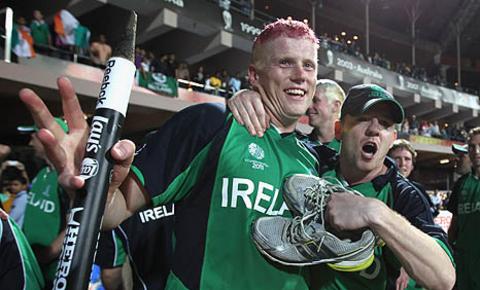 The International Cricket Council has axed all teams outside elite full member status from the 2015 World Cup.
Only full ICC members - India, Pakistan, Sri Lanka, England, South Africa, New Zealand, Australia, West Indies, Bangladesh and Zimbabwe - will compete in four years' time.
It means there is no place for Ireland, who beat England in the 2011 World Cup.
For the 2019 event, the 10 teams will be decided by qualification.
The possibility of a 12-team tournament was also discussed by the ICC's executive board at a meeting in Mumbai, but it opted to approve its previous decision to have 10 teams.
The chief surprise was to do away with qualification for 2015, thus automatically excluding all associate and affiliate member nations from the next edition of the competition.
Apart from Ireland, who also beat Pakistan at the 2007 World Cup, the other nations outside the ICC's full members to take part in the 2011 event were Kenya, Canada and the Netherlands.
The Irish have a particularly strong claim to feel aggrieved since they are currently ranked 10th, one spot above Zimbabwe, in the ICC's own one-day rankings.
Associate members had opposed the change, and Ireland bowler Boyd Rankin apparently described Ireland's exclusion as a "shambles" on Twitter.
"Thanks ICC!! What does Irish cricket got to do?," appeared on an account purportedly belonging to the 26-year-old.
Ireland captain William Portfield, whose team produced one of the greatest comebacks in World Cup history to beat England by three wickets in Bangalore, described the ICC's decision as a "kick in the teeth".
"We always knew we were the best associate but we showed how far we were ahead of the rest," Porterfield told BBC Radio 5 live.
"We have made big strides. We thought the ICC were backing us up, we were ticking all their boxes with the things they were asking us to do.
"They have turned around on us and it feels like they were leading us on."
Although Ireland missed out on a quarter-final spot after finishing sixth in Group B, their victories over England and the Netherlands, along with an admirable performance in a five-wicket defeat by eventual champions India, ensured the men in green left a profound impression after their departure from the subcontinent.
However, their performances were not enough to convince the ICC of an automatic place at the 2015 competition in Australia and New Zealand, much to the anger of Cricket Ireland chief executive Warren Deutrom.
"We're outraged by this decision, we're not taking it lying down," he said.
"It's a betrayal of sporting principles and it flies in the face of all the evidence we saw at the World Cup, which was that an associate nation could compete with the best teams in the world.
"It's baffling but am I surprised? Not really, because clearly there are instances where protection of existing privileges is considered more important than any other principle - including those of sport, fairness and equality.
"In the last four years we have been ranked above one of the teams that now has automatic qualification for the World Cup, Zimbabwe, and there isn't a single point you can take from that that is remotely justifiable."
The ICC also announced that the new one-day international league due to run between April 2011 and April 2014 will incorporate relegation and promotion from 2019.
The event is to run separately to the Cricket World Cup to add more meaning to 50-over matches outside the tournament.