Commonwealth Games: Youth shines bright for Northern Ireland on Gold Coast

By Nigel Ringland
BBC Sport NI
Last updated on .From the section Commonwealth Games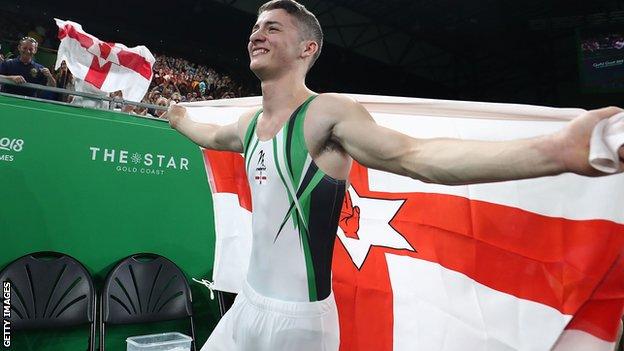 Do you remember what it was like to be young? To have no fear? To have the motivation and ambition to take on the world?
Well perhaps the over-riding memory of the 2018 Commonwealth Games for Northern Ireland will be the youth movement, a group of mostly teenagers, some at their first ever major championship, who performed so well.
They were led by an 18-year-old gymnast from Newtownards. One afternoon, a month or so before the Games began, at training in the gym at Rathgael in Bangor, Rhys McClenaghan told me he thought he could beat Olympic champion Max Whitlock on the pommel horse.
It wasn't arrogance, it was simply self-belief in his own ability. He really thought he could do it. McClenaghan certainly wasn't spending hours every day training while sacrificing the normal pursuits of a teenager to make up the numbers.
And so he travelled to the Gold Coast, performed his routine flawlessly three times, at least to the untrained eye, and shocked the world of gymnastics by taking the gold medal and in doing so defeating Whitlock, who hadn't lost in three years.
Let me repeat that…McClenaghan took down the Olympic and world champion.
It's the stuff dreams are made of and Northern Ireland's moment of the Games. He was able to share it with his parents Tracy and Danny while Whitlock's mum, Madeleine, who has watched her son become a Great Britain sporting legend, was one of the first to congratulate them.
Mums understand these things….
It would be the only time Danny Boy was played at these Games. A little disappointing? Well maybe, but it's hard to argue when eight of the 12 boxers returned with medals once again, proving a rich vein for podium finishes although no wins from six in the finals isn't the conversion rate they would have wanted.
Michaela Walsh can feel aggrieved at the decision she was given - the Commonwealth Games not so friendly towards her for the second time but she remains a legitimate medal hope at major championships including the Olympics in two years time.
Then there were the surprise medals. Bronze for Gareth McAuley (no not THAT Gareth McAuley). the men's skeet shooter who sported his footballing namesake's Northern Ireland shirt around the Games village.
Which one of them has the better shot, you can decide…
Silver as well at the shooting range for a delighted Kirsty Barr, so genuinely happy with what she had achieved and able to share it with her dad and coach, Clifford.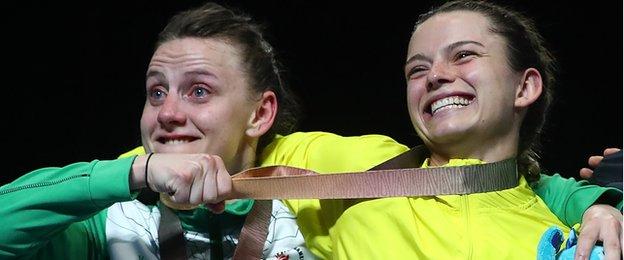 Quick question…do you remember 400m hurdler Phil Beattie? Well, nine years before Leon Reid was born he won gold at the 1986 Games in Edinburgh. Beattie was the last track medallist Northern Ireland produced before Reid's bronze in the 200m.
His medal also highlighted the current state of flux he finds himself in regarding his transfer of allegiance request to be able to run for Ireland.
A Commonwealth medal and the exposure it brings will hopefully help that process to be expedited now.
Not everything went flawlessly off course. There was no fairytale finish for 67-year-old David Calvert at his 11th Commonwealth Games and with shooting currently not included in the programme for Birmingham in four years time this will probably be his last appearance.
If it is then what a spectacular career with eight Commonwealth medals, four of them gold.
For the first time since 1978 there were no bowling medals either and other individuals didn't perform the way they would have hoped.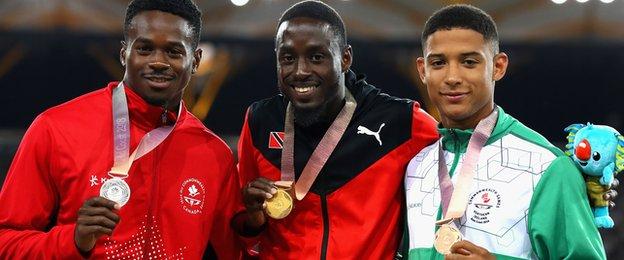 However, there was also a first win in wrestling since Ivan Weir's bronze medal in 1978 courtesy of Sarah McDaid and a best ever result in weightlifting, a fourth place from Emma McQuaid.
And on the final day, in blazing temperatures, a fine fourth for Kevin Seaward in the men's marathon.
But let's return to those youngsters for a moment. McClenaghan credits his 18-year-old team mate Ewan McAteer for pushing him on and he too reached the all round final.
Another pair of 18-year-olds led the way in the pool as Northern Ireland swimmers made seven finals. Conor Ferguson reached two of them including a fifth-place finish in the 50m backstroke while Danielle Hill also made a final.
Owen Cathcart, who turned 16 on the first day of competition, helped lead the table tennis team to the quarter-finals while 17 year-old Kate O'Connor was 8th in the heptathlon.
Downey close to bronze
Michelle Magee (18) is the future of the netball team and Cameron Orr (19) took sixth place in the mountain biking and even Mark Downey who was inches away from claiming a bronze in the men's road race is only 21.
Boxing medallists James McGivern (20), Brendan Irvine (21) Aidan Walsh (21) and Kristina O'Hara (22) all have bright futures.
They'll need support and funding to take the next step in their careers but that's a discussion for another day.
In the end the Northern Ireland team will return home from the magnificent venue of the Gold Coast with one gold, seven silver and four bronze, the best ever in terms of number of medals at a Games held on foreign soil.
Fifthy-seven of the 90 athletes recorded top eight finishes.
And it's the youth movement leading the way…the future, it seems, is in safe and capable hands.