Commonwealth Games: Scots seek answers on Hawkins treatment delay

By Kheredine Idessane
BBC Scotland
Last updated on .From the section Commonwealth Games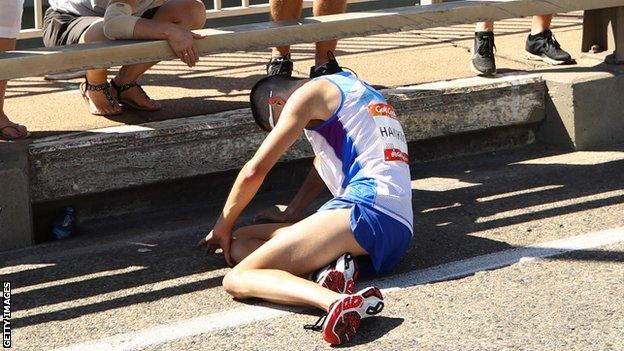 Commonwealth Games Scotland chair Paul Bush has formally asked Gold Coast organisers why Callum Hawkins did not receive quicker treatment after collapsing twice in the marathon.
Hawkins lay on the road for several minutes before receiving attention and was then taken to hospital.
Team Scotland say he is talking, and likely to make a full recovery.
Bush said the athlete was left "exposed" and feels there should have been "more prompt attention to him".
Team Scotland added that Hawkins will remain in Gold Coast University Hospital overnight as a precaution and will be assessed again in the morning by their medical team.
Speaking from his hospital bed, Hawkins said: "Thanks for all your messages of support today and to the Gold Coast University Hospital staff. I am now feeling much better."
The Gold Coast organising committee, GOLDOC, have defended the location and number of medical staff available, and point to the fact that an athlete has to request medical attention as any intervention on their part results in disqualification.
"First and foremost we're delighted to say that he's up in bed talking to his father and is being well looked after, both by the hospital staff and the Team Scotland medical staff," Bush told BBC Scotland. "We're confident he'll make a full recovery.
"Words can't express what we felt; having seen him take that nearly two-minute lead, then he started to wobble down at the beach. It was incredibly distressing and very tragic for him and we're just pleased that he's now safe and well in hospital.
"We've now formally raised the matter with the Gold Coast organising committee. As you know the international rules are very clear in that an athlete has to declare themselves unfit to race (before they can receive any medical attention).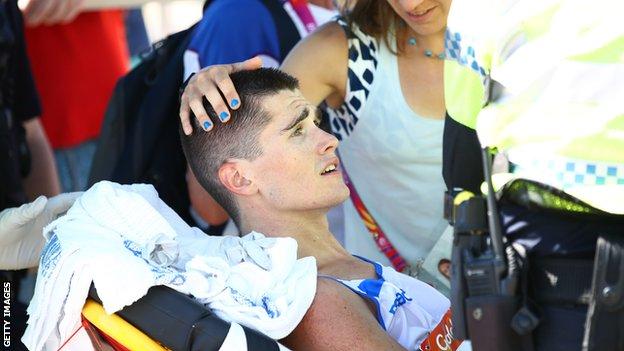 "But the second time he fell, he was a little bit exposed and we probably would have liked to see more prompt attention to him.
"So that's something we've raised with the organisers. It's not a time to be critical. It's a time to look, in the cold light of day, to see what lessons can be learned for future marathons around the world in these conditions, which were unbelievably tough."
Chief executive of the organising committee, Mark Peters, said the health of all athletes was GOLDOC's number one priority.
"I like many others was distressed to see a wonderful athlete like Callum collapse during the closing stages of today's marathon," Peters said.
"We are offering every assistance possible to Callum and Team Scotland.
"GOLDOC has put in place a wide range of measures to ensure athlete welfare and the response of medical staff this morning was within agreed response guidelines and timeframes.
"I was also concerned about the behaviour of a small number of bystanders who chose to take images. This is not in keeping with the spirit of GC2018."
According to GOLDOC, medical staff were posted at 500m intervals in the final kilometres of the course, and were equipped with radio communications.