Commonwealth Games: Tears, cheers and medals - Wales' Gold Coast story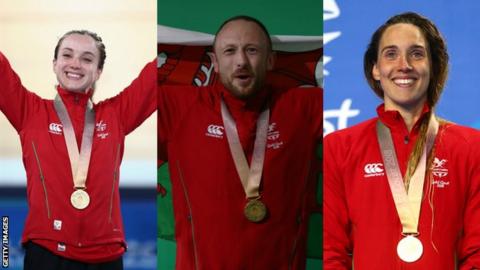 Australia's Gold Coast always seemed like a good place to make history.
After 11 days of intense competition across 15 sports, more than 200 Team Wales athletes have left their surfshack headquarters in Broadbeach with 36 medals around their necks, including 10 golds, 12 silver and 14 bronze.
Collectively, it's been a huge triumph; their most successful Commonwealth Games, but with some disappointments along the way.
There is a sense the blood and sweat of a boxer is only truly rewarded with gold, if Mickey McDonagh's "bronze ain't for me'' declaration is anything to go by.
However, 15-year-old diver Aidan Heslop didn't need a medal to leave feeling fulfilled. He tumbled through the tropical rain to reach a final even his mum didn't expect him to make.
Many exceeded expectations, some under-achieved.
The golden sands of Queensland have staged the first memories in a long career for some; for others it was a glorious location to say a final farewell.
Golden girl
For Alys Thomas, it is neither the end nor the beginning.
The 27-year-old swimmer, who only competed in her first World championships in 2017, came into these Games under the radar before obliterating her rivals in the 200m butterfly to take Wales' first, and only, gold in the pool.
With 30 metres to go, the victory was already certain as the scant Welsh cheers were lost to the the open night sky of the magnificent aquatic centre.
But that never really mattered. In a sense, the concentrated patriotism may have made it even more special.
And as the red dragon raised to the sound of the Welsh anthem, there came a knowing nod from Australian swimming legend Ian Thorpe which seemed to say: "Your girl did good."
There were a total of five medals in the pool for Wales, including Daniel Jervis' silver in the 1500m freestyle.
And if the Games are, as many Welsh athletes have quoted, a stage to inspire the next generation, let the painter and decorator from Resolven be your poster boy.
"I've got a fantastic country to represent. I love being Welsh and just love representing Wales," said Jervis.
Barker's Welsh dream-come-true
They say the Velodrome is the beating heart of the Games.
It would take something special to silence the cacophony of support that seemed at its loudest in Anna Meares' arena.
Olympic and triple world champion in Elinor Barker did just that with a stunning points race performance to become the first Welsh cyclist to win a track title since Louise Jones in 1990.
On the podium, Barker was overcome with emotion. "I was able to sing the Welsh national anthem on the podium for the first time in my career," said Barker.
"This is what primary school assembly dreams are made of.
"It's something that doesn't happen very often and is special."
For context, Barker admitted winning a Games gold did not feel quite the same as the Olympics, but not far off.
However for others, it feels like more than an Olympic gold. Much more.
The bowling green was the home to a Welsh team that won a gold in the men's pairs, a silver for Laura Daniels in the women's singles, and bronze in the blind and visually impaired mixed pairs.
That included Gilbert Miles, at 72-years young.
Soaked in sun against the backdrop of a sky-scraper, the Broadbeach bowling club became a favoured turf for Daniel Salmon.
After winning a 2017 youth championships, he and partner Marc Wyatt beat Scotland's record-hunting Alex Marshall and Paul Foster, to win gold.
Salmon's dad was moved to tears as he could temporarily place his son in the same category as other Whitchurch High School ex-pupils Gareth Bale, Sam Warburton and Geraint Thomas.
"Daniel doesn't earn the same money as they do, but in bowls this is what dreams are made of," he said.
Another former Whitchurch pupil was also moved to tears with shooter David Phelps serenaded on his 41st birthday by the crowd, after winning a second Games gold.
There were five podium positions for Welsh shooters with a gold too for Michael Wixey, just 24 hours after wife Sarah won bronze in the women's trap event.
Then there was the fairytale ending for weightlifter Gareth Evans.
After losing funding and missing out on a medal in 2014, he toured the country doing demonstration events to raise money to continue his career.
Here he was Wales' first gold medallist and one of the team's most colourful characters was given the honour of carrying the closing ceremony flag.
Next generation
It was a long road to gold for Gareth; for others success has come sooner.
Just nine months after winning the Commonwealth Youth Games in Bahamas, 19-year-old Sammy Lee produced three spectacular performances in his first three senior fights.
That followed Lauren Price's success just a few hours earlier and would be part of seven medals on Wales' own version of Super Saturday.
It also takes something special for an athlete to transcend borders. It is undisputed Anna Hursey was a star at these Games.
Known and recognised as the 11-year-old table tennis prodigy who lived up to expectations, she helped Wales reach the team quarter-finals.
One word can sum up her efforts; Fearless.
Hursey was a refreshing dose of innocence and a privilege to watch and there are hopes she will go on to future success.
Highs and lows
There were some who won silver, but could not hide their emotion at losing gold.
Wrestler Kane Charig fits this bill with his tearful post fight interview after being beaten in his final.
There were also high-profile athletes who will leave disappointed.
Some did not even make it to the start line, with former 400m world hurdles champion Dai Greene ruled out with by hamstring injury.
Double Olympic silver medallist and opening ceremony flagbearer Jazz Carlin was hoping to defend her 800m freestyle title. Carlin finished sixth and pulled out of the 200m and 400m events.
Team captain Non Stanford was disappointed with eighth in the triathlon, while 110m hurdler David Omoregie failed to make the final.
Wales' athletics success was again largely due to record-breaking performances by para-athletes Holly Arnold and Olivia Breen.
In fact, seven of Wales' 36 podium positions were claimed by para-athletes.
There was also the more familiar heartbreak, as Fiji proved last gasp Welsh rugby defeats to southern hemisphere sides are not confined to the 15-a-side game.
Despite having Hallam Amos and Justin Tipuric in their ranks, Wales saw their Sevens medal hopes disappear with a 21-17 pool defeat.
It was a game they could and should have won. Where have we seen that before?
Wales women created history by competing in the first Commonwealth, but joined their male counterparts in finishing seventh.
There was also drama at the death in cycling's road race.
A hard-fought sprint finish gained Dani Rowe a bronze while Jon Mould, outsprinted with 50m to go, settled for silver.
It was the same location and similar suspense in the race walk as a disqualification left a devastated Australian Claire Tallent in tears, but allowed Bethan Davies to claim a bronze.
What next?
The focus now turns to Birmingham 2022. It certainly won't have the same climate as Gold Coast.
Wales may also not have the same medal count, but have a benchmark to aspire to.
If Sport Wales' main objective is to inspire the next generation, maybe there will be a few new faces too?
One thing is for sure. Team Wales, and the Games themselves, have a lot to live up to.