Commonwealth Games: Scots will give 'heart and soul' for basketball bronze

By Tom English
BBC Scotland on the Gold Coast
Last updated on .From the section Commonwealth Games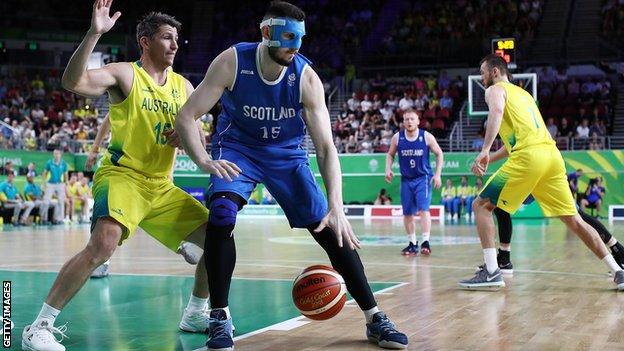 One of the things the Scottish basketball team love about their coach, Rob Beveridge, is the clarity of his message, the way he cuts to the chase. No waffling windbag, this.
Beveridge is a man that calls a spade a bloody shovel. He says the trait may have been passed down to him by his father, a son of Blantyre.
We got a flavour of Beveridge's directness after Scotland's expected pummelling at the hands of the rampant Boomers of Australia in their Commonwealth Games semi-final on Saturday.
The Scots went down 103-46 and will face New Zealand's Tall Blacks in the bronze medal match tomorrow. Australia and Canada will play for gold and silver.
Australia's winning margin of 57 points was the largest of any match in the competition so far.
"There was a stage, in the first half, when we were totally shell-shocked by their intensity," said Beveridge. "We got beaten by a hell of a team. There was a bit of poo running down our leg at times. The score was a little embarrassing but we'll go back to the village, dust ourselves down for the New Zealand game.
"This was a tough experience, but nothing has changed. We're looking for that bronze medal."
Having coached here professionally for much of his life, and having won a gold medal as assistant coach with the Boomers at the 2006 Commonwealth Games, Beveridge knows everything there is to know about Australian basketball.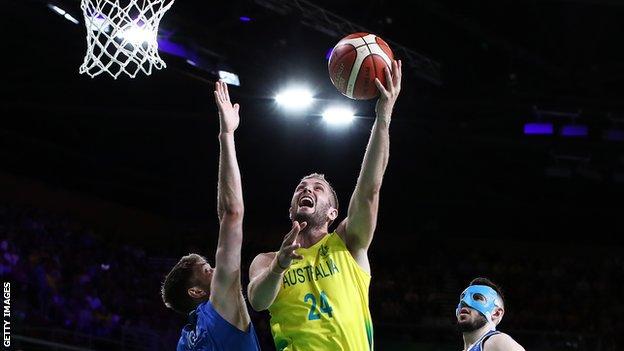 Before this semi-final he said that Scotland, the rank outsiders of the eight competing nations on the Gold Coast, were going up against a "multi-million pound team." He compared them to a F1 car and, sure enough, they didn't take long to leave the Scots behind in their rear-view mirror.
"They're a hungry team," he said of Australia, "We've done amazing things and we're going to regroup, lick our wounds, get our bodies right and tomorrow morning we're going to give our heart and soul.
"We can learn from Australia's intensity. They were so damn organised with their pressure. Australia were relentless and ruthless. We had a little bit of stage fright out there. I did see some people hang their head and I won't accept that. We won't accept that at all. We want to stay positive and if there's anybody feeling sorry for themselves they'll get my foot up their backside.
"We'll get them to bed early tonight because it's a 9am game for us. The boys will be up at 5.30am or 6am at the latest. The bus collects us at 6.45am. It'll be very difficult to beat New Zealand but we'll be going all-in. They're very experienced. They came very close to beating Australia in the group stage (it was a six-point game) and they beat Canada (82-60) earlier in this competition, so it's a small bit of a surprise that New Zealand are not in the final."
The Kiwis played out an absolute thriller against the Canadians, falling well behind early before rallying late on. Locked together at 86-86 with five seconds left on the clock. Canada pulled off a spectacular play and took it 88-86. New Zealand looked exhausted and crestfallen, but they'll still be huge favourites for bronze on Sunday.
Once again, Scotland will go in as underdogs, but the fact that they have a shot at a medal remains something of a sensation.