Commonwealth Games: Scotland's Reece McFadden 'disgusted' by decision

By Tom English
BBC Scotland on the Gold Coast
Last updated on .From the section Commonwealth Games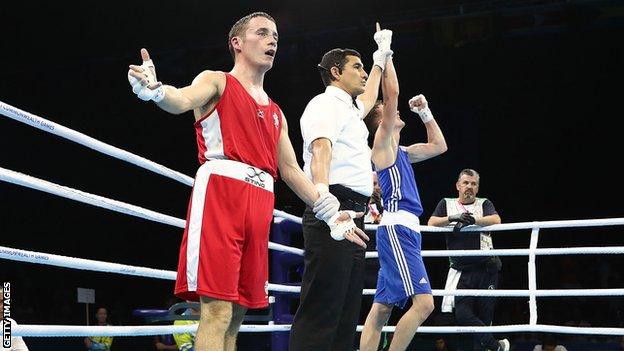 Scottish flyweight boxer Reece McFadden says he was "disgusted" with the decision to award his Commonwealth Games semi-final bout to his opponent, Northern Ireland's Brendan Irvine.
McFadden lost out on a split decision that drew some boos from the crowd, with the Scot having to settle for a second consecutive bronze at the Commonwealth Games following on from his display in Glasgow four years ago.
"I thought I won the fight," said McFadden. "I'm absolutely disgusted. I'm devastated. I came here for gold and I won that fight. I'm pretty sure that most people in the crowd, nearly everybody in the crowd, thought I won it.
"I was pure enjoying it. I wasn't showboating, I wasn't trying to humiliate my opponent. He's a good guy, a good friend, but I was enjoying myself. I'm going to go back and have a hard think about that decision. I thought it was disgusting, if I'm honest.
"I thought I was the clear winner. I'm not a judge but I've been in boxing since I was seven years old and I know if I've won or not.
"I'm pretty sure Brendan will know that I won deep down in himself. Hats off to him. He's a very good boxer, very talented, Olympics and all that. But I'm devastated. You just feel that all your hard work has gone for nothing. In the bin.
"Outsiders watching the boxing might go, 'Aye, he just fights, it's easy' but they don't see me dieting hard for eight weeks, they don't see me sacrificing loads of family time. Don't get me wrong, I'm not the master of boxing, I have faults, but that's two bronze medals at the last two Commonwealth Games and I actually thought I'd done enough in Glasgow as well and I didn't get it. It disgusted me."
Scotland's other semi-finalist, John Docherty, also lost but this was a unanimous decision. Four years ago, Josh Taylor and Charlie Flynn won gold in the ring with McFadden and Stephen Lavelle taking bronze. Four medals then has become two medals now.