Commonwealth Games: Wales set new overseas medal record
Last updated on .From the section Commonwealth Games20
A silver for rhythmic gymnast Laura Halford in the hoop gave Wales a 26th medal on the Gold Coast to beat their previous Commonwealth Games overseas record set in Auckland in 1990.
Sarah Wixey added another bronze in the women's trap shooting.
Wales finished day nine on 29 medals with three more guaranteed in boxing.
Lauren Price and Sammy Lee both won their respective boxing semi-finals to join Rosie Eccles in Saturday's finals.
The current 2018 total of seven golds, 10 silvers and 12 bronzes surpasses the 25-medal haul in New Zealand in 1990.
'Fantastic achievement'
Team Wales remain in sight of the highest haul of 36 medals in one Games, achieved in Glasgow in 2014.
The most golds achieved by Wales in one Commonwealth Games was 10 in Auckland.
"It's a fantastic achievement to pass the 25 medal mark and we hope to add more in the final few days of competition," said Team Wales Chef de Mission Nicola Phillips.
"Our athletes, across all 15 sports, have been outstanding and they deserve the praise that is coming their way.
"The goal we gave to our athletes was to get more personal bests, and highest placings, than we've ever had.
"They have done it brilliantly, and that is now reflected on the medal table.
"The whole 200-strong team has performed with passion and commitment and we applaud that remarkable effort.
"We hope they inspire others to get involved in sport."
Mixed fortunes
After Aberdare wrestler Curtis Dodge won bronze on Thursday, Charig had to settle for silver in the men's freestyle 65kg final against India's Bajrang Pania.
Glasgow 2014 boxing bronze medallist Price booked a place in the 75kg final on Saturday against Australian Caitlin Parker, thanks to victory over Canada's Tammara Thibeault in a scrappy fight.
"I knew going into the fight she had a height advantage on me because she is a big girl," said Price.
"Watching her before I knew she had done a lot of grappling so it was going to be tough.
"My tactics worked. It was a messy fight but the most important thing was I got the win to get me in the final.
"I am fighting an Australian (in the final) but know deep down I can do enough to beat her in her own backyard.
"That is what I am aiming to do and bring home the gold for Wales."
Chepstow's Eccles will also fight for gold on Saturday in the 69kg final.
McDonagh had to settle for bronze in the 60kg section after a semi-final split points defeat to Australian Harry Garside, before Lee overcame another home boxer in the 81kg when he defeated Clay Waterman.
Lee will face Samoan Ato Plodzicki-Faoagali in Saturday's final.
Wixey bronze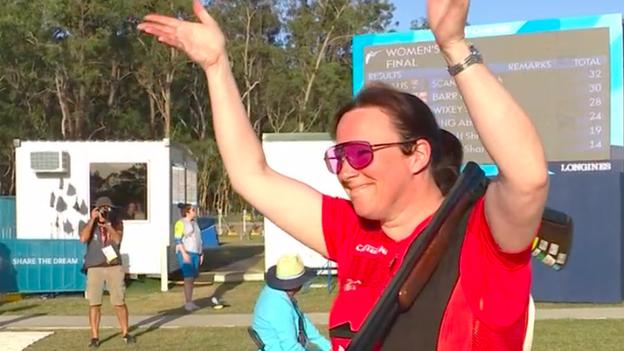 Wixey dropped from the silver medal position to third as the trap shooting competition progressed, but held on to her podium spot.
Australia's Laetisha Scanlan took gold with Northern Ireland's Kirsty Barr beating Wixey to silver.
Wixey's husband Mike is in eighth place after the first day of qualifying in the men's trap, which finishes on Saturday.
Sian Corish missed out on a place in women's 50m Rifle 3 Positions final, finishing ninth in qualifying.
Halford's fourth Games medal
Halford's silver success was her fourth Commonwealth Games medal after three in Glasgow.
The rhythmic gymnast finished fourth in the ball and ribbon finals, while Gemma Frizelle placed eighth in the hoop competition.
Joshua Stacey lost to England's Ross Wilson in the para-table TT6-10 semi-final singles, but can still win bronze on Saturday when he plays Theo Cogill from South Africa.
The men's bowls quartet of Ross Owen, Stephen Harris, Marc Wyatt and Jonathan Tomlinson lost their bronze medal match to England.
Rugby, squash, shooting & athletics
Wales lost 34-5 to Australia and 29-7 to Fiji as women's rugby Sevens made a Commonwealth Games debut.
Rio 2016 Olympian Jasmine Joyce scored consolation tries in both matches with Wales facing England on Saturday in the final group game but unable to qualify for the semi-finals.
Squash interest ended at the Games for Wales as Tesni Evans and Deon Saffery lost the women's doubles quarter-final 2-1 to Australian pair of Rachael Grinham and Donna Urquhart.
The Welsh duo had been leading by a set and 9-1 before eventually losing 11-3 in the final set.
Glasgow 2014 silver medallist Sally Peake could not finish on the pole vault podium again as she had to be content with 10th.
On the track, Tom Marshall and Rowan Axe failed to qualify for the men's 1500m final before Jonathan Hopkins and Ieuan Thomas placed sixth and seventh respectively in the 3,000m steeplechase.
Morgan Jones finished fourth in the men's T47 100m final.
Wales' men's hockey team beat South Africa 2-1 in their final match to finish ninth in the 10-team competition.