Commonwealth Games: Scotland's basketball underdogs ready for Aussie all-stars

By Tom English
BBC Scotland on the Gold Coast
Last updated on .From the section Commonwealth Games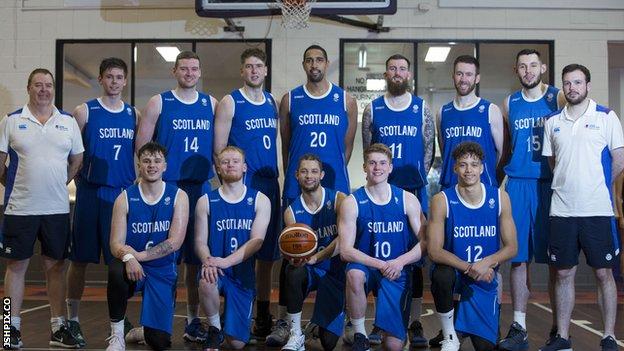 Rob Beveridge is in a unique position to call Saturday's Commonwealth Games basketball semi-final between Australia, the country of his birth, and Scotland, the country of his father's birth and the team he has led to this lofty position despite being disregarded as no-hopers just a week ago.
The Scots face the Boomers in their own backyard and people here are predicting a train-wreck.
Australia, when at full-strength, are ranked number 10 in the world. Of course they can't be at full-strength at these Games because six of their heavy hitters are playing in the NBA right now, from Joe Ingles, on $13m a year with Utah Jazz, to Patty Mills, who's on almost $11m with the San Antonio Spurs to Matthew Dellavedova who makes close to $10m playing for the Milwaukee Bucks.
"Still," says Beveridge, the son of a carpenter from Blantyre, "that's a multi-million dollar team on the floor right there. Over the years, I've coached 11 of their 12 players and they're all full-time in the national basketball league in Australia. Some of their guys are on half a million dollars a season. Some of them are fringe NBA. Anything less than gold for them is failure."
Australia beat Nigeria 97-55 in their last game. Scotland also beat Nigeria but it was an altogether closer deal, ending 66-61.
Scotland have won four out of four to make the semi-final when, if they'd followed the script, they'd have lost four out of four and would be packing their bags. Their win against England in their opening game was huge, but it wasn't a one-off. They went on to beat Cameroon and India before pulling off a shock win over Nigeria.
"People said after the England game, 'oh great, nothing else matters now that you've beaten the English' and I said, 'screw that attitude, we're going to the semi-final," explains Beveridge.
"The boys worked too hard to beat England to throw everything out the window straight after. We face a mammoth task, but we're here to medal. I mean it when I say that. It's a scary thing to try to put a game plan together against Australia because they're an F1 car and we're a V8. We're pretty quick, but we're not F1, but we're here to get on the podium."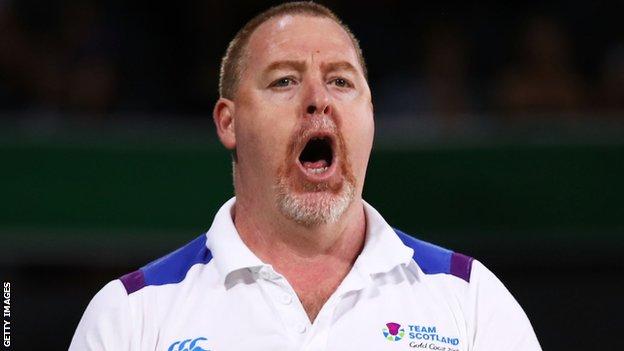 New Zealand and Canada are in the other semi-final. If Scotland lose to the Australians they'll more than likely end up playing Canada for the bronze medal. Australia beat Canada 95-55 in the group stage. If it comes to it, they are beatable for bronze.
Beveridge was drafted into the Scotland ranks just six weeks before the Commonwealth Games began. The distress flares were sent up after his predecessor had his contract terminated abruptly and mysteriously.
A professional coach for 27 years, Beveridge was at a loose end after his team, the Illarawa Hawks, failed to make the end of season play-offs.
"I'm coaching against my homeland, but I'm doing this for my father's family and that means an enormous amount to me," he said. "Everybody wants to represent their own country and I've done that [as assistant coach for Australia when they won basketball gold in 2006]. This is also special. I had a tear in my eye before the Nigeria game. Oh, I was emotional. We had a piper. It made it real for us.
"My dad is a man of few words, but he has his own way of showing how proud he is that his son is coaching Scotland. His accent is as thick as the day he left.
"My role is a short-term thing. I'll be going back to my day job after the Games, but this has been a privilege. This is one of the tightest groups I've ever coached. I'm just the conductor. The boys are the ones who are making it happen."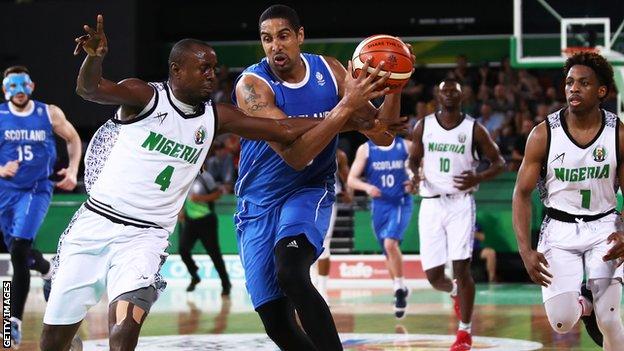 Kieron Achara is one of those boys. At 34, he's the captain and veteran of this team. He's also a terrific advocate for his sport in what are challenging times. With little funding, and insufficient respect, the existence of international basketball in the UK is precarious.
"We wanted to prove people wrong," said Achara. "What the coach has given us is direction. We have passion but without direction you don't get belief. He's shown us that we are something. We've a new set of eyes. Everything is clearer.
"Rob was teary before Nigeria and I was just as bad. I had to run away. I don't know what came over me. With all the years of experience I have, getting teary-eyed at this stage of my career shows it means something.
"It was one of the most nervous games I ever played and I didn't really hold it together that well, but my team-mates were there for me. We did it as a team and got ourselves in the semi-finals where nobody expected us to be.
"There's no pressure on us now. It's fun for us. We'll give it our best and if we scare them, we scare them and that's the mindset we're going to have. I'm not joking when I say we were happy to get beds in the athletes' village after coming in from Cairns the other day. It wasn't envisaged that we'd be needing beds. We were supposed to be eliminated by now.
"Nobody expected us to be here and that's the truth of the matter. We fought hard for those beds, though. We're going to sleep in them and we're going to enjoy sleeping in them."
After the victory against England, Achara spoke powerfully about the perplexing lack of funding for his sport and the sense he had of an opportunity being wasted.
"It's a funny one because for a lot of my life I haven't lived in Scotland," he said. "When I was playing in Italy, I had friends who played for the national team and, essentially, they were celebrities, they were really looked after. Everybody knew who they were.
"In Scotland and the rest of the UK, it's different. I just want to say that win, lose or draw, it's a phenomenal sport. It's one of the most inclusive sports you can get. I've seen, and we all have seen, what it does from a social change standpoint. I go to universities in America and I see kids going in and getting degrees who statistically had more chance of going to jail than going to university. That's what sport can do and basketball can do it really well."
For many of them, if not all of them, Saturday will be the biggest day of their sporting lives. Their progression from suspected fodder to possible medallists has been one of the unexpected joys of these Games.