Commonwealth Games: Sean McComb 'happy truth has come out'
Last updated on .From the section Commonwealth Games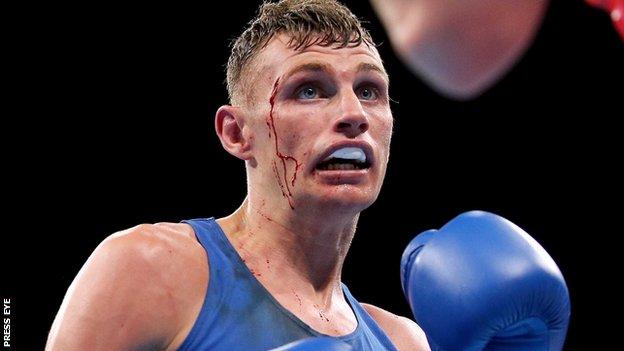 Northern Ireland's Commonwealth Games boxing captain Sean McComb says he is an "innocent victim" after being fined over a Gold Coast nightclub incident.
McComb received a fixed penalty notice and was banned from areas of the Gold Coast for causing public nuisance.
However, team management later said they believe McComb was innocent and he retains their full support.
"I'm very happy now that the truth has come out and I'm an innocent victim in all this," said the 25-year-old.
McComb's participation in the Games had ended with a points defeat on Sunday and he was on a night out when the incident happened at a club in the Surfers Paradise area.
It was reported that McComb got involved in a dispute with bouncers.
Managers of the Northern Ireland Commonwealth Games Council (NICGC) said they had spoken with McComb and viewed CCTV pictures.
In a statement issued on Wednesday, the NICGC said the images "raised concerns as to the accuracy of the initial information".
McComb, form Belfast, has hired a lawyer to contest the fine and ban issued by the police in Queensland.
"It's been a stressful few days for me - I've kept my integrity, I've stayed quiet about this until the truth came out," he added.
"I would like to say a massive thank you to everyone here and back home for their support and believing in me that I was innocent in all this.
"I wish to draw a line under it all and move on and start supporting the boxers as fully as I can."