Commonwealth Games: Wales beat Scotland to win bowls bronze
Last updated on .From the section Commonwealth Games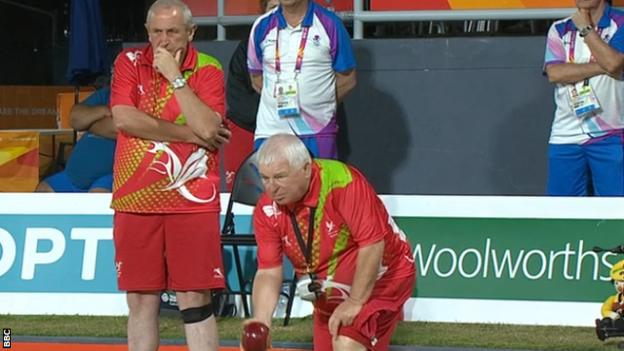 Wales beat Scotland 13-12 in a dramatic sudden-death end to win bronze in the lawn bowls mixed B2/B3 pairs at the Commonwealth Games.
Welsh skipper Gilbert Miles produced a sensational shot to steal victory when the teams were tied in the last end.
Scotland had fought back to take the lead in end 14 after trailing Wales from the fourth end.
Australia claimed the gold medal after beating South Africa 12-9 in the final on Broadbeach Green.
England lost 18-11 to New Zealand in the open B6/B7/B8 triples semi-final and will play South Africa for the bronze medal on Thursday (03:30 BST).
But England beat Wales 16-11 in the women's triples quarter-final to set up a last-four tie with Australia.
Australia are unbeaten in the competition and will go in as favourites in Thursday's semi-final (00:01 BST).
Scotland beat Malaysia 17-15 in their women's triples quarter-final and will play Canada in the other semi-final.