Commonwealth Games: Scotland's Duncan Scott takes medal tally to six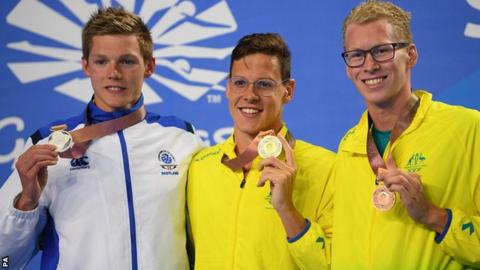 Scotland's Duncan Scott picked up his sixth medal of the Gold Coast Commonwealth Games, finishing second in the 200m individual medley.
The 20-year-old finished in one minute 57.86 seconds, 0.19 secs behind Australia's Mitch Larkin.
Scott was already the most decorated Scottish athlete at a single Games.
He won the 100m freestyle and has four bronze medals from the 200m freestyle, 200m butterfly, 4x100m freestyle and 4x200m freestyle.
Scott came close to adding a seventh medal in the 4x100m medley, but his powerful last leg could not quite overhaul the South African team, who finished behind Australia and England.
"It was so close but Mitch has swum unbelievably well at this meet," said Scott after his silver medal effort. "That was his fourth gold. He is just untouchable.
"It was a great battle and a PB (personal best) as well, so I'm happy with that. It's a tough event, one that I'm getting used to and getting better at."
There were three Scots in the 200m individual medley final, with Mark Szaranek in fourth place and Dan Wallace sixth.
Szaranek joined Scott for the medley relay, along with Craig McNally and Ross Murdoch.
"Fourth isn't great," said Scott after his 12th swim of the Games. "I've been quite lucky this week, getting my hand on the wall ahead of other people. It was only a matter of time.
"The guys are gutted, but we've got to hold our heads high. It was a really good performance and a good end to the week."