Commonwealth Games: Vicky Glover vows to fight on after split decision anguish

By Tom English
BBC Scotland on the Gold Coast
Last updated on .From the section Commonwealth Games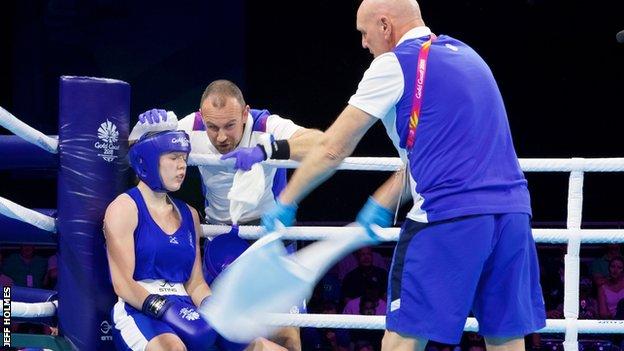 Such is the way of the modern world, every time a Scot wins a medal at these Commonwealth Games your phone goes ping to tell you about it. And there's been a lot of pinging going on in the last six days.
'Ping! Gold in the pool'. 'Ping! Silver in the shooting'. 'Ping! Bronze in the gymnastics'.
There's no ping for losers. Little coverage of any kind, really. The caravan moves on in search of medallists and leaves everybody else behind at the side of the road.
It doesn't matter that they might have gone close, it doesn't matter that their sacrifice and dedication and work-rate in training was every bit as intense as those with shrapnel around their necks. Nobody cares if they have suffered a possible injustice at a judge's hand.
No medal and you're on the pay-no-mind list. All or nothing. That's the way it is.
Vicky Glover, 18, would have been guaranteed a bronze medal, at least, had she won her featherweight quarter-final against the experienced Canadian Sabrina Aubin-Boucher.
She didn't. She lost a split decision and left the boxing ring in upset silence. She said the reason she didn't initially stop to talk about what went on was because she didn't want to burst into tears live on television.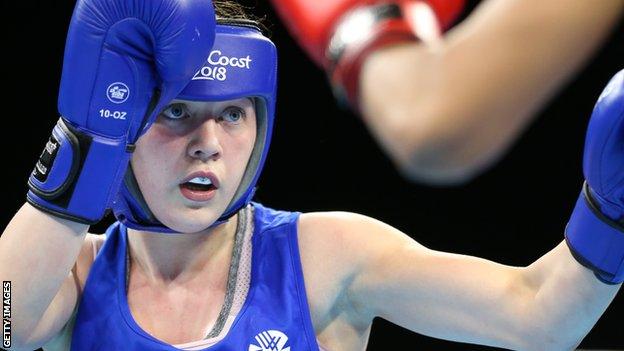 "Gutted, absolutely devastated," she said, later. "I felt like I did really well in there. I kinda thought I had it. I think the crowd thought the same, I think my corner thought the same.
"When it's that tight it's just down to opinion, eh? This time it was her. She's 33, I'm only 18. I'm not even angry, I'm just a bit upset."
This is what it's like on the other side. It's tough. The judge from Sir Lanka scored it 3-0 in Glover's favour. The judge from Australia called it 2-1 to Glover. The other three went for the Canadian on a margin of 3-0. How can one judge see it 3-0 one way and others see it 3-0 the other way?
Welcome to the crazy subjectivity of the boxing game.
We revel in success. We want to associate with winners and wrap ourselves in the warmth of their journey but there's no harm to consider what disappointment looks like from time to time.
At the Oxenford Studios it was represented by a Scottish girl comforting herself with the nirvana of a nice cup of coffee because she was now out of the competition and didn't have to worry about her weight tomorrow.
The critical round was the second. The Scotland coaches, Mike Keane and Craig McEvoy, were as sure as sure can be that Glover won it.
"You get split decisions all the way to the top of this game," said McEvoy. "The best, most experienced judges in the world, have split decisions, at the Olympics and everywhere else.
"It can come down to different things, even down to the audio, the sound of the punches landing, We're confident that the judges are scoring what they see, but it's disappointing. There was a good accuracy in her punches in that second round, clear punches for all the judges to see."
Keane added: "To lose the second round, to me, it just didn't look right. Vicky had a fantastic second round. Two judges agreed with us, three judges disagreed with us. We thought she'd won the first two rounds. We thought she had them in the bag. She's unlucky. We're surprised, put it that way. It's all subjective, isn't it? She's performed away ahead of her time.
"It would have been so good for her, for Scottish boxing, for female boxing in Scotland if she got that decision. It would have been massive, absolutely massive. She could have gone on and won it. You've seen the opposition and there's nobody ahead of Vicky. Nobody. She could beat anybody here."
It was a rough day for the Scots in the ring. Glover lost, Aqeel Ahmed lost and Scott Forrest lost. One by one the medal hopes are falling.
"I didn't want to cry," said Glover. I just went back to the room and phoned my mum and dad and they picked me up a bit. It's nice to hear that the coaches thought the same as me. They thought that I should be in a bronze medal position. I made mistakes but what they're looking for is improvement and they've seen it.
"I'm quite happy with how I done. It's not often that I come out of a fight thinking like that. Usually when I've lost I'm like, 'Right, that's it, I'm giving up, I'm not coming back'. But I'm not like that today. I'm not giving in. No, no, no. I've been through tough times in my life and I stuck at it. This is just the start."
At that point, Glover wandered off in search of a coffee. "Gonna treat myself," she said with a smile, a girl of just over 5ft trying to make her way in the big, bad world of amateur boxing, so near and yet so far from the hubbub of Medal Land.