Commonwealth Games: Tom Daley withdraws from 10m individual platform
By Nick Hope
BBC Sport on the Gold Coast
Last updated on .From the section Commonwealth Games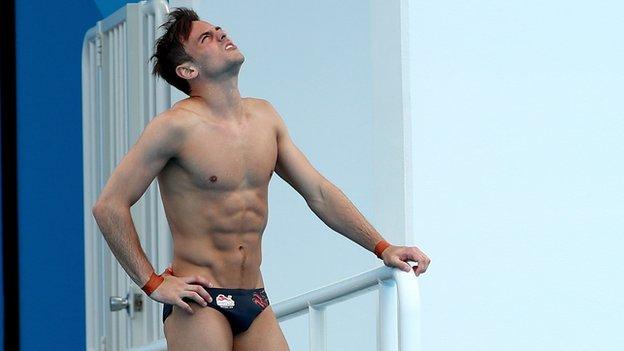 World champion diver Tom Daley will not defend his Commonwealth individual 10m title at Gold Coast 2018 because of a hip injury.
Daley, 23, who was looking to win the event for the third Games in a row, has been struggling with "on-going medical issues alongside a further injury in the pool last week".
He was the strong favourite, but will still compete with fellow Olympic bronze medallist Dan Goodfellow in the synchronised 10m platform on Friday as the dives are less "dangerous".
Daley said he is "truly devastated" he will not be able to take part in the individual event on Saturday.
"I have been training so hard for the Commonwealth Games, so this is a real disappointment for me," he added.
Team England said: "The technical dives in the individual event put enormous physical strain on Tom's body.
"Due to prior illness and with his hips being the determining factor, some of the dives Tom was due to demonstrate in the individual event would be too dangerous and impactful on his body."
In March, he landed badly in training before the Beijing World Series and was being treated for concussion, but was given the all-clear to compete at the Commonwealth Games.
Daley recovered from the disappointment of missing out on an individual medal at the Rio 2016 Olympics to claim his first individual world title since 2009 last year.
Gold Coast 2018 was expected to be the next step towards a final push for Olympic gold at the 2020 Olympics, but this latest injury casts doubt over his long-term future.
Because of his on-going injury problems Daley has competed sparingly in 10m events this season, instead focusing on 3m mixed synchronised competitions, which cause less impact on the body.
"The hardest thing for any athlete is coping with an injury, especially when it means they can't compete in what they have been working towards," said Daley.
"I continue training for the 10m synchronised diving event alongside Dan."