Commonwealth Games: Scots basketball side make net gains against the odds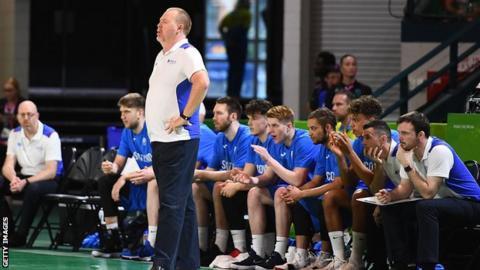 2018 Commonwealth Games
Venue: Gold Coast, Australia Dates: 4-15 April
Coverage: Watch live on BBC TV and Red Button with extra streams on Connected TVs, BBC Sport website and app; listen on Radio 5 live; follow text updates online. Times and channels
On Tuesday, in the splendid isolation of the Cairns Convention Centre 1400km from the Gold Coast, Scotland will play Nigeria in the knockouts of the Commonwealth Games basketball competition.
Nigeria are favourites to win and move into the last four, but the truth is that Scotland weren't supposed to get this far.
Seeded eighth of eight nations, they were supposed to lose all three games in their pool, but they won all three.
They were supposed to be in disarray after coach Tony Garbelotto was abruptly removed from his post, in hazy circumstances, just six weeks before the beginning of the Games, but instead they have been inspired.
Nobody expects them to beat Nigeria, but then nobody expected them to beat England, Cameroon and India either.
"Ecstatic would be the word I'd use to describe how I feel about what the boys have done so far," says Rob Beveridge, the new coach.
We should talk about Beveridge, for it's quite a story. Beveridge is the grandson of a Scottish miner and the son of a man from Blantyre who emigrated to Australia in 1963.
'Nobody thought we could do this'
He is a hugely respected and experienced coach with the Illawarra Hawks in the National Basketball League in Australia - he was assistant coach when Australia won basketball gold in 2006 in Melbourne - and the guy that Scottish Basketball phoned when the Garbelotto situation unfolded.
Was he interested in coaching Scotland on a short-term deal? You bet he was. In a sense, he had no option but to say yes. His father might have disowned him had he said no.
When Beveridge told his dad that he was going to be coaching the Scots at the Games two things happened. Firstly, his dad got emotional. Secondly, his dad got interested.
"When I said to dad that Basketball Scotland had been on the phone asking me if I would take the team for the Commonwealth Games there was a bit of a tear in his eye. He said to me, 'Who will ye be playing?' I said, 'We've got England, Cameroon and India in our group'. He said, 'Whatever you do, son, you've gotta beat those Poms'."
Scotland beat the Poms all right, then backed it up with two more wins.
"Apart from the boys, nobody thought we could do this," said Beveridge. "We've had minimal preparation. I came in very, very late, but we set up a programme and the players have run with it. The enthusiasm and passion of the group is overwhelming."
Beveridge is aware of the funding crisis in Scottish, and British, basketball. He know that in the era where medals, and little more than medals, are the things that determine the level of government finance a sport gets, basketball lives a precarious existence.
After the victory against England, Scotland captain Kieron Achara spoke about how the team felt like they were fighting for the survival of the sport, fighting to keep it alive so that the next generation of Scottish players could get an opportunity to play for their country on the Commonwealth stage.
"It was a similar situation in Australia in the early days," said Beveridge. "In Australia, basketball is a minority sport. All the funding goes to cricket and AFL, rugby league and rugby union, so from a funding perspective we don't get much. It's improved in time because we have had great success, but to me, in the UK, basketball is almost one of these forgotten sports when it comes to getting money for facilities and coaching.
"Looking at the Scottish boys, it creates a little bit of a chip on their shoulder, a little edge to prove to people that we're not just here to have our butts kicked, we're here to represent our country with honour. Yeah, we're low on resources, but it is what it is. We can whinge about it or we can get on and play as hard as we can.
"The fact is that football is the number one sport in the world, but basketball is number two. A lot of people don't realise that. The amount of people that play the game around the world is incredible.
"I coached in China and there are 300m people playing. This is a sport that gives kids an opportunity to get off the streets and find something in their lives. I've been a full-time coach for 27 years, and I've coached thousands of kids and I've seen a lot of kids who, if they didn't have basketball, would be on drugs or they'd be in jail."
'We won't be pushed around'
Scottish basketball's biggest struggle right now is off the court, but there's a match to be played on Tuesday and for most of these players it's the most important match they've ever played.
Beveridge has instilled belief in them, but he's quick to point out that this is a two-way street. He's helping the players, but the players are helping him.
In his other life, as coach of the Hawks, he had a season riddled with injuries and, ultimately, disappointment at having failed to make the play-offs.
"To be able to coach such a wonderful group of men has given me a fantastic lift after a very frustrating season," he said. "Every day they're bright, they're pumped, they're ready.
"Nigeria will be favourites, everybody knows that. They lost all their games in Pool A - the top four seeds were in Pool A and seeds five to eight were in Pool B - but they're a good side. They'll be big and athletic, like Cameroon. Cameroon were probably the most athletic team I've coached against. They were relentless and very difficult to play against.
"Nigeria will be a lot more organised. They're more of a basketball nation. They're bigger and stronger and have an NBA player in their team. We have our work cut out, no doubt about it, but we have belief. We won't be pushed around. We weren't supposed to beat England, we weren't supposed to beat Cameroon and we're not meant to beat Nigeria.
"In our squad, we have experienced guys and we have young kids and the interaction between the two is beautiful to watch. It's a privilege to coach them and we all want this adventure to last. We're underdogs, but that's absolutely fine. All the pressure is on Nigeria."