Commonwealth Games: Tonga's Caroline Dubois on how lawn bowls saved her life
By Chris Mitchell
BBC Sport, Gold Coast
Last updated on .From the section Commonwealth Games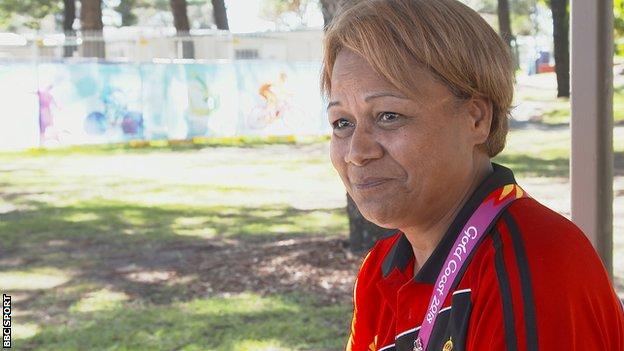 Five years ago, Caroline Dubois hit rock bottom.
Her marriage had broken up, her daughter had been taken away by the authorities, and she was "drowning" herself in alcohol.
This week she will represent Tonga at the Commonwealth Games in Australia, having turned her life around through lawn bowls
The 53-year-old had not played the game until two years ago - and Tonga has no bowling greens.
"I went through a really tough time," she says. "I believe bowls saved my life.
"Five years ago my life was in a pit. I had lost my marriage. My daughter was taken away. I actually lost the plot and went down a really disruptive path.
"Every minute I had, I would find a bar, find drink, drowning myself. It was the perfect solution for me. Drown myself in drink and go to sleep."
Dubois was introduced to lawn bowls by her sister and niece. It had a dramatic effect on her life - she has stopped drinking and is focused on the sport she now loves.
"The family stepped in and said: 'Snap out of it.' That was a turning point in my life. I just committed myself to the cause."
Given the lack of facilities in Tonga, Dubois went to Auckland, New Zealand to play. It was soon apparent she had a talent.
As she prepares to compete in the women's pairs on the Gold Coast, she notes how quickly her life has changed.
"To bowl for two years and end up at the Commonwealth Games is very rare," she says. "Nobody does that.
"To be on that green against the toughest teams, I couldn't ask for anything more."
Dubois is now looking forward to playing against some of the best bowlers in the world.
But the biggest thrill for her is that her husband and daughter are back in her life, and in Australia to watch her compete.
"My family is in the stands supporting me, yelling," she says. "Listening to my daughter going 'go mummy!' is music to my ears.
"It's a happy ending."