Commonwealth Games: Isle of Man race walker Erika Kelly finishes in top 10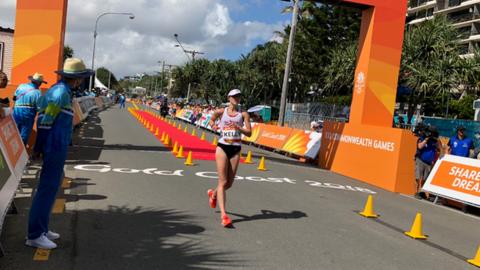 Race walker Erika Kelly said she was "overwhelmed" to finish in the top 10 at the Commonwealth Games on her Isle of Man debut.
The partially sighted harpist finished ninth in the women's 20km race walk, won by Australian Jemima Montag.
The 25-year-old, who only started race walking less than two years ago, said: "I was not expecting a top 10 finish at all coming into the event.
"When I crossed the line it was absolute relief. It was just so hard."
She added: "I'm made up and a little overwhelmed. The heat was intense and some parts of the course were really narrow with people shouting your name from either side.
'Hard to breathe'
"It was hard to breathe. It was like nothing I have ever experienced. It was mental."
Since gaining her place on the Manx team, Kelly has taken a career break from her job with the island's government to focus on competing in Gold Coast.
She was diagnosed with a genetic eye disease aged 14, which has left her almost blind in her right eye.
Meanwhile, three Manx records were set in the pool on Sunday at the Optus Aquatic Centre.
First Guy Davis twice broke the Manx record in the 50m breaststroke heats and subsequent swim-off but did not reach the semi-finals. His time of 29.73 seconds is, however, a Manx record for the event.
Laura Kinley did reach the semi-final of the women's 100m breaststroke, again setting a new personal best and island record in finishing eighth in one minute 10.93 seconds.
Elsewhere, Matthew Bostock finished 14th in the men's 40km points race final at the Anna Mears Velodrome.
He said: "There are a lot of strong nations with three riders so it was always going to be hard to race against the numbers."