Commonwealth Games: Scotland's boxers all "100% ready" after disarray at draw

By Tom English
BBC Scotland in the Gold Coast
Last updated on .From the section Commonwealth Games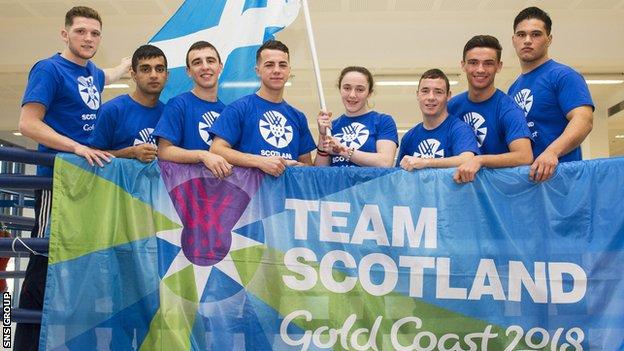 You join us here in the Commonwealth Games village where the draw for the boxing is about to get under way. The atmosphere is tense.
Dozens of national coaches are packed into the room awaiting the moment of truth. They all have countries they want to avoid and countries they want to face. Each of them is praying for a few byes that will get their fighters closer to the medal bouts.
These exciting minutes have been four years in the making.
There's a large projector in the left-hand corner of the room. "As you can see, here we have the opening fights for day one," says the master of ceremonies, pointing to the screen. Only we can't see. Nobody can. The lights are too bright. They need to go off, but for a reason known to nobody, they can't go off.
"Why can't the lights go off," says a chorus of voices.
"We're not sure, but they have to stay on," says the top table.
"But we can't see anything," say the coaches.
"Err, I apologise."
Coach after coach screws up his eyes in an attempt to make out make out the draw, but they can't. "A shambles," says one. "A joke," says another. "This is hopeless," says a third man as he makes for the exit.
Head coach 'reasonably happy' with draw
Later, when the print-outs are delivered and the draw has finally become clear, Scotland's head coach, Mike Keane, surveys the landscape. Keane, from Kirkcaldy, has been in the game his whole life.
"That projector was nae use," he says. "But, anyway, looking at the draw now, we're reasonably happy. We know where we stand. The boxers are fit and strong and ready."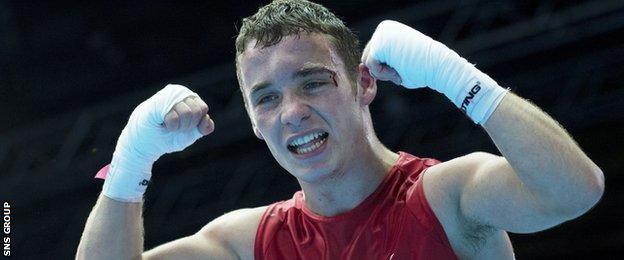 Keane goes through it. Reece McFadden is up against an opponent from Guyana in round one. If he wins - and he'll be a roaring hot favourite - he's into the last eight.
He doesn't want to commit, or maybe doesn't want to jinx it, but it's obvious that Keane thinks the world of McFadden and sees him as a serious prospect for 52kg gold in these Games after taking bronze in Glasgow.
"You've seen Reece before and I don't need to tell you about his pedigree," he says. "He's a very accomplished boxer and we'll never underestimate anybody, but McFadden is a good boy. He's a gold hope, on his game. He'll be very, very difficult to beat."
Aqeel Ahmed (49kg) is another whose prospects have been talked up.
"There's 12 boxers in his category and he's got a bye, so he's already through to the last eight," explains Keane. "He's one bout from a medal. He fought in Glasgow four years ago and got beat, but performed really well and he's come on a lot."
A few more stand out. The middleweight, John Docherty, will face a fighter from Mauritius - "a top, top operator", according to Keane, who adds: "That's going to be a cracking bout."
Stephen Newns, the welterweight, is up against a Tongan. Scott Forrest, the heavyweight, has got a Kenyan.
"We don't know much about that lad, to be honest," admits Keane. "We'll need to look for some footage now.
"Sean Lazzerini, the light heavy, is a massive puncher and there's 13 in his weight. He's been drawn against an Australian guy and they tell me that this Aussie is very powerful and that Sean wont have to go looking for him. It's very exciting."
'All our team is 100% ready'
There's extra excitement because for the first time ever, Scotland has two female boxers, the flyweight Vicky Glover and the light flyweight Megan Gordon.
"There are eight boxers in Megan's category and she's boxing an Indian and if she wins that bout then she's in the medals straight away," says Keane. "That's a huge incentive. On past history, India in those smaller weights, are very good.
"Meghan has done some sparring with bigger and older boxers and she'll be ready. She's prepared hard.
"We looked at world-rated non Commonwealth nations to go to in the build-up to here - Kazakhstan, Ukraine, Uzbekistan, Cuba, Russia. We've good relationships around the world and we called our friends in Ukraine and fixed a camp. One day sparring southpaw, the next orthodox. It was really good.
"Vicky, like Megan, is only 18. She's on an absolute ascendancy. She's flying. In the first round she's boxing against a Dominican and she's in for a tough night because Vicky is a very strong opponent.
"All our team is 100% ready for this. They'll only get beat by something better, they'll not get beat by nerves or somebody beneath them. They won't be over-awed, they've trained too hard and too long. They're desperate to do more training and we're having to keep the lid on them. For now."
In the coming days, the lid will come off and nine men and two young women will start their bid for glory.