Ollie Hynd and Jonathan Fox withdraw from Commonwealth Games

By Nick Hope
BBC Olympic sports reporter
Last updated on .From the section Commonwealth Games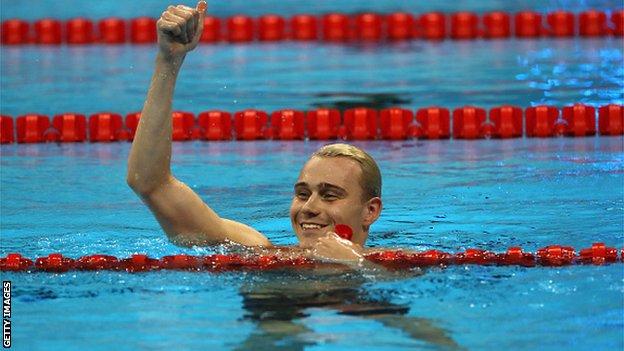 Paralympics swimming gold medallists Ollie Hynd and Jonathan Fox have withdrawn from the Team England squad for next month's Commonwealth Games.
The duo were recently reclassified as part of new International Paralympic Committee (IPC) rules.
Both were moved to categories where they will compete against opponent with less severe impairments.
"This has taken an unbelievable toll on my training and mindset," said Hynd. "I will not fly out to Australia."
New IPC rules require all Para-swimmers to undergo international classification before the Tokyo Paralympics in 2020.
As a result, there is no event for Fox to participate in at the Commonwealth Games, while the decision has led to Hynd focusing on this summer's European Championships and the 2020 Paralympic Games in Tokyo.
Hynd, 23, who won gold medals in the S8 400m freestyle and SM8 200m individual medley at the 2016 Paralympics in Rio, said: "My recent re-classification in my main swimming events from S8 to S9 has come as huge shock to me, having not previously been near to an S9 classification in all my years of competing.
"With this in mind, I have reluctantly withdrawn from the competition."
Fox, who won a gold medal at the 2012 Paralympic Games in London in the 100m backstroke (S7), said he was also disappointed at not being able to join Team England on Australia's Gold Coast.
"It's a real shame and I'm obviously extremely disappointed at not being able to take part in my first Commonwealth Games," said the 26-year-old, who trains at Manchester's National Performance Centre.
"The reclassification means there is no event at the Games for me to compete in. Hopefully, in the future, there will be more races for para-swimmers to take part in at multi-sport events so this doesn't happen again."
The Commonwealth Games opening ceremony takes place on 4 April, with the swimming competition taking place in the Optus Aquatic Centre from 5-10 April 2018.