Commonwealth Games: Dai Greene says 'the highs don't feel that long ago'
Last updated on .From the section Commonwealth Games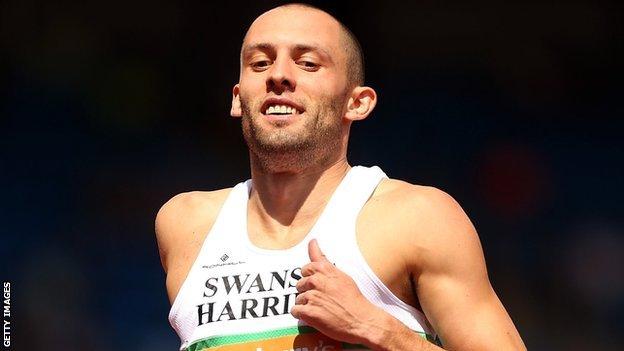 2018 Commonwealth Games
Venue:
Gold Coast, Australia
Dates:
4-15 April
Coverage:
Watch live on BBC TV, Red Button, Connected TVs, BBC Sport website and app; listen on Radio 5 live and follow text updates online.
It was only supposed to take a month. At first it seemed it had.
"The hernia wasn't too bad to come back from, I made a speedy recovery," said Dai Greene in August 2013 as he prepared to defend his 400m hurdles world title five months after an operation to repair his groin.
Unfortunately he spoke too soon.
"As part of that surgery, they had inserted a mesh to fix the hernia. But that mesh frayed and got tangled with the nerves around my groin," Greene tells BBC Sport, five years later.
"It hit me hard, I couldn't run or move properly.
"I was in a lot of pain. I had another surgery at the end of 2013, another one in 2015 and again in 2016, all to fix issues around that first operation."
There are thousands of ordinary people who could empathise.
An investigation for the BBC's Victoria Derbyshire programme last year spoke to NHS patients who had been left in chronic pain after their own mesh repairs went wrong.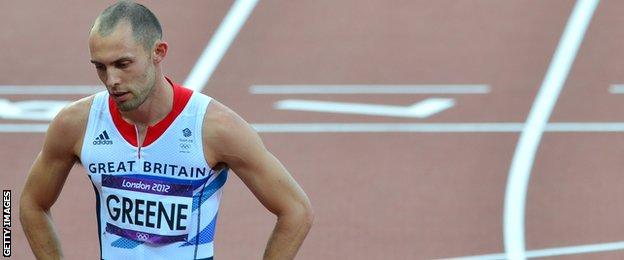 While it is still the "recommended method" for treating the population in general, it certainly wasn't right for Greene.
"The hurdle technique puts the groin in a really stressful position and it upset it really quickly," he adds.
"I had to have it removed and the hernia repaired a different way.
"It takes quite a while to come back from those surgeries."
'It never occurred to me to pack it in'
Greene was Great Britain's athletics team captain at the London 2012 Olympics, being selected ahead of the likes of Mo Farah, Jessica Ennis-Hill and Christine Ohuruogu.
But, as Greene was on the operating table and off the radar - he hasn't reach a major championship final since 2012 and missed the Rio 2016 Olympics entirely - the world moved on.
Men's 400m hurdles at the Commonwealth Games

Heats:

Tuesday, 10 April, 02:15 BST

Semi-finals:

Wednesday, 11 April, 13:11 BST

Final:

Thursday, 12 April, 10:45 BST
Contracts with sponsors expired and weren't renewed. The house he bought with his partner in Wiltshire went back on the market. In November 2016, he lost his National Lottery funding.
He turns 32 on 11 April and could have given up at several points over the past five years.
But he didn't give up when, as a young athlete, he had to work in a fast-food drive-through to fund his training.
And, with the memories of world, European and Commonwealth titles in his head and the feeling of his best form in his legs, he wasn't going to curtail the other end of his career.
"When you see everyone else competing, it is hard," he said.
"The groin became more of an issue when we upped the intensity, speed and repetition.
"I would have long periods of training well so had glimpses of my best form, but never got to show it.
"It was frustrating but I knew the ability was still there and I believed I would get back to the startline.
"I don't want to fizzle out. I have just as much appetite to train and work hard and be better as I did 10 years ago. It never occurred to me to pack it in."
A nervous wait, then tears of joy
The mentality might not have changed, but, without the same level of funding, some of the practicalities have had to.
Although Greene is still with Benke Blomkvist - the Swedish coach with whom he reunited in 2014 after working together in the early days - his backroom team are now picked by him, rather than supplied by British Athletics.
Alison Rose, who worked the knots out of Ennis-Hill during her heptathlon career, is his go-to physio. Greene flew to Leeds from an overseas training camp and back again the next day when a problem cropped up, such is the trust he places in her.
Getting his ticket to the Commonwealths involved similar gig-worker hustle.
At the start of this year, finally feeling race-fit once more, Greene based himself in the warm, thin air of South Africa, as he tried to meet the Wales team's qualification mark of 49.50 seconds.
It was a time he had not managed since August 2013.
"There are one or two tracks which are very favourable that, with the altitude, the lack of wind, and the warm weather, run a lot faster - but I couldn't get into the races that I wanted," he explains.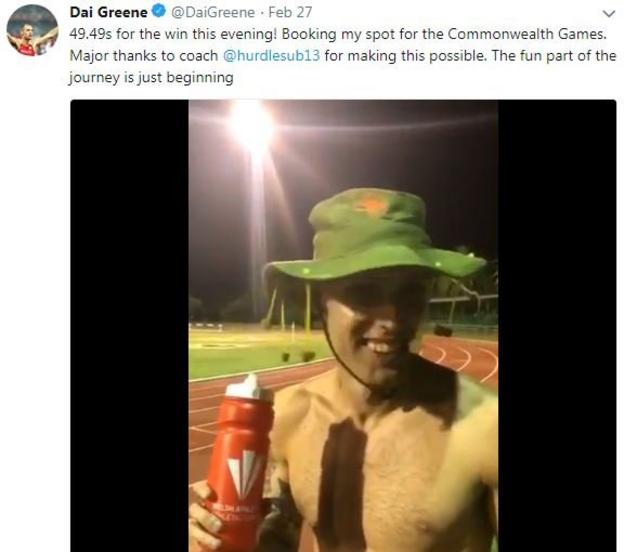 "The organisers were not letting in foreigners and I knew time was running out with Wales' March 4 deadline.
"Some of the venues I was racing at were not the best, the track surface wasn't giving you anything back.
"I hadn't raced a lot, or had a huge amount of competition, and I had my doubts whether that competitive edge would still be there."
It was. On 27 February, a fortnight away from being cut from the Wales team, he stopped the clock at 49.50 seconds in a race in Potchefstroom.
Greene waited nervously until his time was confirmed. Fortunately it was rounded down a hundredth of a second, rather than up, and the tears were of joy, not frustration.
"I've only ever been in tears after three races, the 2010 Euros, the 2012 Olympics and today," he tweeted afterwards.
"That's what this means to me. Big step in my journey back to where I want to be."
The reaction flooded in, with fellow athletes Craig Pickering, Doyle, Goldie Sayers, Andrew Osagie and Tony Jarrett joined by the likes of triathlete Helen Jenkins and swimmer Michael Jamieson in congratulating Greene.
"People see me training every day, putting in the effort. Everyone has gone through injuries and can sympathise with my position," says Greene.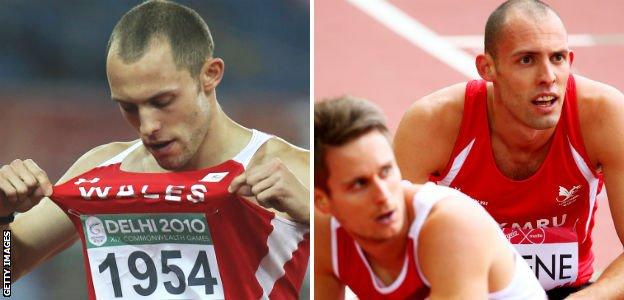 Now, four years after his last international competition at Glasgow and eight years after winning in Delhi, he is back at the Commonwealth Games.
"Those highs don't feel that long ago," he concludes.
"I am someone who only tends to remember the positive things and so I have probably drowned out the last few seasons in my mind.
"I was worried I would not be able to execute after not competing for a long, long time, but that instinct quickly came back.
"I have felt very at home on the track in the past few weeks."
Far from Llanelli, but in the red of Wales and home once again.