Gold Coast 2018: Lynsey Sharp on wild weather, mother's coaching & medal ambitions
Last updated on .From the section Commonwealth Games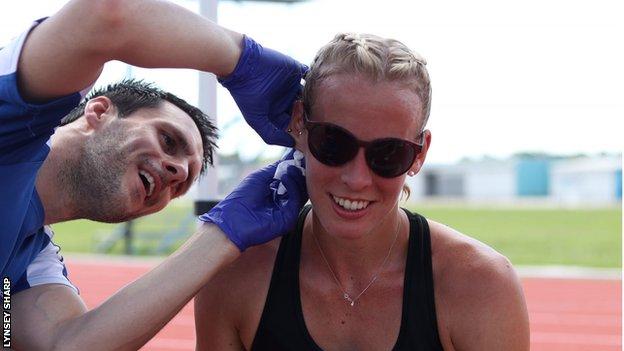 Lynsey Sharp will be representing Scotland in the 800m at the Commonwealth Games in April, having won a silver medal in Glasgow four years ago. The Dumfries-born, San Diego-based athlete will be giving BBC Scotland the inside track in a series of contributions leading up to the event on Australia's Gold Coast.
I've arrived in Australia and the Sunshine Coast is living up to its name. Thirty degrees first thing in the morning and humidity I've not really experienced before.
It's a bit of a shock to the system. It's not so humid in San Diego, where I train, so even though I've been in warm weather, it's hard to get used to.
During the 2015 World Championships in Beijing it was really humid and I've spent a lot of time in Florida training, but it's a different kind of heat.
Before I arrived there was a cyclone and another one is forecast for later in the week. I'm meant to be racing on Thursday.
If it arrives and it's really bad then I won't - there's not much point in racing in a cyclone.
Familiar faces and absentee koalas
Away from the weather, it's great to be surrounded by some familiar faces, including my mum.
She came out a couple of days ago and is on coaching duties for the first couple of weeks, which is great. Terrence [Mahon, my coach] comes out at the end of the month, but until then, mum is in charge of the stopwatch.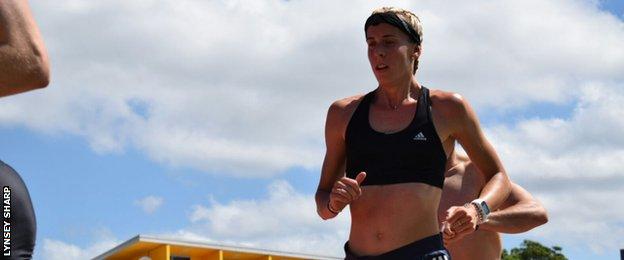 She's done her fair bit of that over the years in Edinburgh, so it's nice to have someone that's fully vested in what I'm doing, and who knows me really well, to help me in these last couple of weeks.
Some of the other Team Scotland track and field athletes have also arrived in Australia and are settling into the holding camp, which is just north of the Gold Coast. I'm sharing an apartment with Eilidh Doyle, Steph Twell and Sammi Kinghorn.
It's good having them all around; some familiar faces and accents.
And we're being really well looked after - although I missed out on an official welcome as I didn't arrive with a group. So I've not had the chance to meet Beau the cute koala bear who greeted many of the athletes on their arrival.
My chance for a cuddle with Beau might come, though, as there's a big group arriving over the next couple of days. Maybe he'll be kicking about.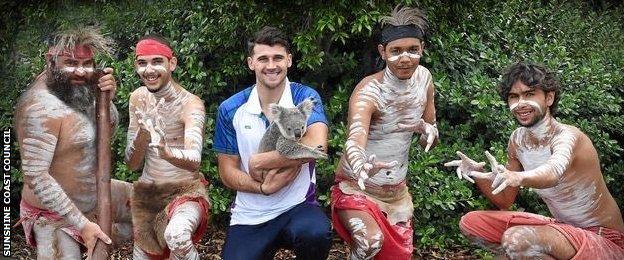 That's if he's not having the week off. I hear he's tired - honestly, I kid you not.
Everyone in the area is looking forward to having the Games here, so they're being very helpful. The facilities, the food and the culture - it's all good.
I'll stay here until about 8 April before heading to the Gold Coast and the athletes' village just before competing.
'There is strong competition, but I'm really up there'
Saturday was my first training session. We just extended the recovery a wee bit because it's quite hard to get your heart rate back down when it's so hot.
I'm just being smart about it, but I had a really good session and hit all my times; it just takes a few days for your body to adjust to a different climate.
Winning a medal is obviously why I'm here. That's my aim. There are some very strong competitors in the 800m, but I feel that I'm really up there.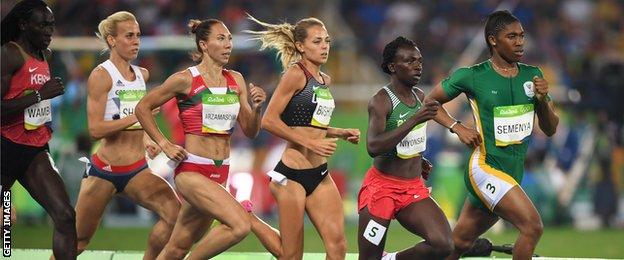 If you look at last year's World Championships final in London, the only Commonwealth athletes in front of me were South Africa's Caster Semenya, Margaret Nyairera Wambui of Kenya and Canadian Melissa Bishop. I think I'm definitely in the mix.
It's funny, because no-one has really raced yet, so everyone is going into these Games not really knowing what sort of shape anyone else is in.
That makes it even more important to focus on yourself because at least, if I know that I'm in-shape, that's all I can do. I can't control what anyone else is doing.
At this level, most people are usually in shape at the right time, so I'd be surprised if they weren't. I've just got to assume that everyone will turn up on the day being in as good shape as me or better.
Blowing away the cobwebs
I don't know if any of my competitors will be running in the races I'm doing over the next couple of weeks.
The first one (cyclone permitting) is not even an 800m, so if I do anything, it'll be a 400m.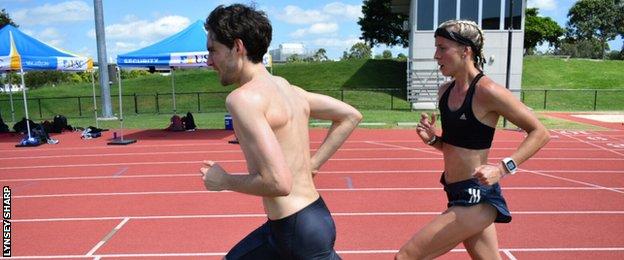 The other one is an 800m, so I'll be looking to get a hard race in to give myself an indication of where I am. A good, honest run. It's about blowing the cobwebs away a little and getting a couple of races outdoors.
However, speaking of cobwebs, I'm trying not to think about the local wildlife too much. Spiders and the like - everything is so deadly out here.
Seriously, though, I just need to believe in the training that I've done so far and trust that I'm in good shape rather than rely on confidence from races as I would usually do.
Lynsey Sharp was speaking to BBC Scotland's Jane Lewis