Commonwealth Games: Isle of Man team includes a harpist, police officer and diabetic cyclist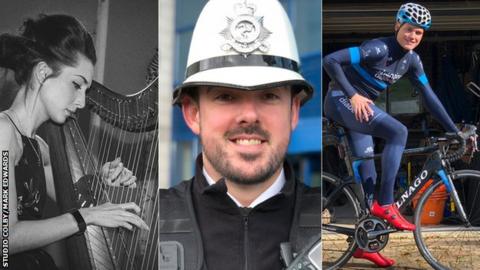 What do a police officer, a harpist and a diabetic cyclist have in common?
They will all proudly represent the Isle of Man at the Commonwealth Games in Australia.
Located in the Irish Sea at the heart of the British Isles, the island's entire population would comfortably be seated inside Wembley Stadium - but their sporting pedigree far outweighs its size.
And, for the 32-strong team, it is the highest level at which they can represent the land of their birth.
"It is the biggest race you can do representing the Isle of Man," said cyclist Sam Brand. "It is a really, really big deal for me."
The 27-year-old former triathlete, who will represent the island in the men's road race in Gold Coast, was diagnosed with diabetes at the age of 10 and now rides for the world's first all-diabetes professional cycling team, Team Novo Nordisk.
"Diabetes doesn't define me - what I do with my diabetes does," said Brand, who only completed his first amateur race less than two years ago.
"If I can positively affect even just one person affected by diabetes, then that would be fantastic.
"This is a great stage to do that on. To pull on the Manx jersey and represent the Isle of Man and Team Novo Nordisk is massive."
Brand had been hoping to help the team's big-name superstar Mark Cavendish fulfil his gold medal ambitions in Australia but that plan was wrecked when the 32-year-old was forced to withdraw last week after suffering two bad crashes earlier this month.
Manx Commonwealth Games medal winners
Gold: 1966, Kingston: Peter Buckley - cycling (road race), 1986, Edinburgh: Nigel Kelly - shooting (skeet), 2006, Melbourne: Mark Cavendish - cycling (scratch race)
Silver: 2014, Glasgow: Peter Kennaugh - cycling (40km points race), 1998, Kuala Lumpur: David Moore - shooting (50m rifle prone)
Bronze: 1958, Cardiff: Stuart Slack - cycling (road race), 1970, Edinburgh: Alexandra Jackson - swimming (200m freestyle), 1978, Edmonton: Stewart Watterson - shooting (50m rifle prone), 2006, Melbourne: Trevor Boyles and David Walton - shooting (team clay pigeon trap), 2010, Delhi: Mark Christian - cycling (points race), 2010, Delhi: Tim Kneale - shooting (double trap)
"I grew up watching Cav [Cavendish] race and it would have been an honour to be in a position, with the rest of the team, to support him to hopefully a gold medal," he said.
"I'm champing at the bit to go and keep pushing myself for myself and the team."
It will be his first time representing the island, as it will for race walker and harpist Erika Kelly.
Since gaining her place on the Manx team, she has taken a career break from her job with the Isle of Man's government to focus on her Gold Coast dream.
The 25-year-old said: "I was working full-time in the Treasury to fund a psychology degree alongside my walking training and harp playing.
"When I was selected my training increased three-fold from around 35km a week to in excess of 100km a week and something had to give."
It seems to be working for the partially sighted race walker, who has recently set a number of personal bests.
"I'm more excited than I am nervous," she said. "I want to enjoy my event more than anything and hopefully come away with a personal best time."
Kelly was diagnosed with a genetic eye disease aged 14, which has left her almost blind in her right eye.
"It is happening so slowly I'm not aware of it," she said. "It doesn't affect my walking but I can struggle to see the paddles the judges use sometimes."
According to team manager Trevor Taubman, it is one of the youngest and best-prepared teams the island has ever sent to a Games.
He said: "We have a lot of young athletes who are still in full-time education on and off the island and members from all walks of life - from a policeman to a pub landlord."
Police officer Mark McGreal is competing in the lawn bowls alongside his dad Clive in the men's pairs. His mum Bernice, who competed in Glasgow four years ago, is their coach.
The 31-year-old said: "Mum was the first to compete at a Games so to have her there as coach is extremely special."
The policeman from Douglas said his colleagues have also been very supportive.
"I get the odd jibe at the station about bowls being an old man's sport, but it's far from that," he said.
"Especially when you get the competitors from the southern hemisphere who are all between 18 and 30. So it really is a young man's game now.
McGreal started playing the sport when he moved home after university and his parents asked him to take up bowls to get him out of the house.
"We have total confidence in each other's ability, which really helps," he continued. "It is going to be incredibly difficult out there but anything can happen in this game.
"I've never played on an outside green in the southern hemisphere so it will be difficult down at Broadbeach. But we can hold our own in the international arena."
His dad and doubles partner Clive, a multiple island champion, added: "It's a real family affair and I am so proud.
"Mark's only been playing for five or six years and he has really come on well and I'd like to take some credit for coaching him."
"There have only ever been one other father and son play together at a Commonwealth Games - and of course Bernice is our manager.
"It is a role reversal from when I was team manager four years ago.
"We've run up a lot of domestic success and we've more than held our own at European Championships so we're really looking forward to going up against the best in the world at the Commonwealth Games.
"I think as a pair we bring more to the table than we do in the singles and if we bring our A-game we could cause some surprises."
They may be one of the smaller nations competing on the Gold Coast, but Manx athletes have brought 11 medals back to home soil since they first competed in 1958.
Team captain Anna Christian said: "The island has a really strong team and I believe we have a great chance of bringing home medals."