Commonwealth Games 2018: IoM athletes head for Gold Coast
Last updated on .From the section Commonwealth Games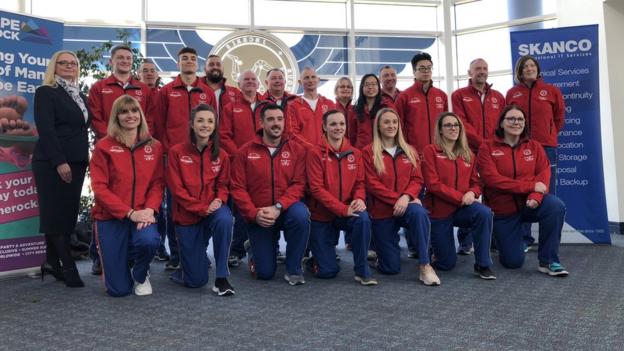 Team Isle of Man is on its way to Australia's Gold Coast for next month's Commonwealth Games.
The 33 athletes will spend the next week in Queensland getting used to the heat and shaking off jet-lag and the effects of a 10,000-mile flight.
They will then head to the athletes' village on the Gold Coast before 12 days of action start on 4 April.
More than 6,600 competitors and officials from 70 Commonwealth nations and territories are taking part.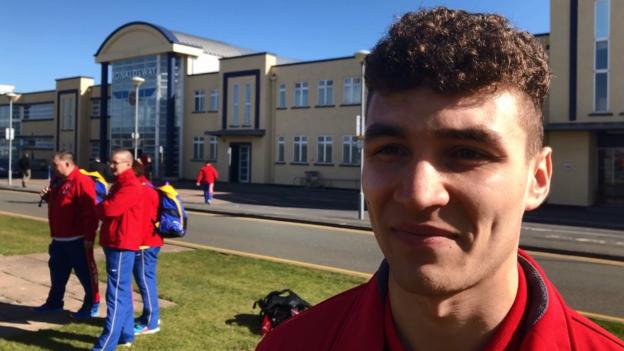 The Isle of Man will be one of the smaller nations competing but the Manx have a well-deserved reputation for punching above their weight.
Cyclist Mark Cavendish is undoubtedly the best-known member of the team, having won 30 stages of the Tour de France.
Manx Commonwealth Games medal winners
Gold: 1966, Kingston: Peter Buckley - cycling (road race), 1986, Edinburgh: Nigel Kelly - shooting (skeet), 2006, Melbourne: Mark Cavendish - cycling (scratch race)
Silver: 2014, Glasgow: Peter Kennaugh - cycling (40km points race), 1998,Kuala Lumpur: David Moore - shooting (50m rifle prone)
Bronze: 1958, Cardiff: Stuart Slack - cycling (road race), 1970, Edinburgh: Alexandra Jackson - swimming (200m freestyle), 1978, Edmonton: Stewart Watterson - shooting (50m rifle prone), 2006, Melbourne: Trevor Boyles and David Walton - shooting (team clay pigeon trap), 2010, Delhi: Mark Christian - cycling (points race), 2010, Delhi: Tim Kneale - shooting (double trap)
Isle of Man Commonwealth Games President Basil Bielich said: "The athletes have been working incredibly hard in preparation, fully committed to their intense and varied training schedules, both on-island and across the waters.
"I am sure that the team will do the island proud next month, and I hope the whole of the Isle of Man is behind them!"
Manx team
Athletics: Joe Harris (javelin), Joe Reid (800m), Erika Kelly (20km walk)
Badminton: Kim Clague, Ben Li, Jessica Li, Cristen Marritt
Cycling (track): Matthew Bostock, Matthew Draper
Cycling (road): Sam Brand, Mark Cavendish, Anna Christian, Nathan Draper, Lizzie Holden, Jake Kelly, Leon Mazzone, Tom Mazzone
Cycling (mountain biking): Nick Corlett
Gymnastics (artistic): Nicole Burns
Lawn Bowls: Clive McGreal, Mark McGreal
Shooting: Rachel Glover, Jake Keeling, Gemma Kermode, Tim Kneale, Neil Parsons, David Walton
Swimming: Charlotte Atkinson, Stephanie Brew, Guy Davies, Laura Kinley, Niamh Robinson
Triathlon: Jenny Newbery