Gold Coast 2018: Lynsey Sharp on Andrew Butchart's injury & endless travelling
Last updated on .From the section Commonwealth Games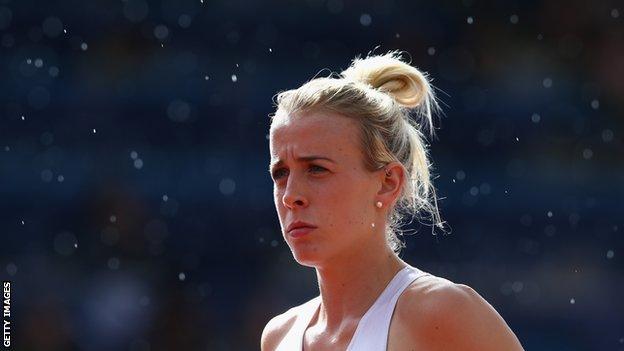 Lynsey Sharp will be representing Scotland in the 800m at the Commonwealth Games in April, having won a silver medal in Glasgow four years ago. The Dumfries-born, San Diego-based athlete will be giving BBC Scotland the inside track in a series of contributions leading up to the event on Australia's Gold Coast, and during the Games from 4-15 April.
As far as weeks go, 3-10 February didn't rank as one of my best. In fact it was an awful week.
My boyfriend and training partner Andrew [Butchart] fractured his foot while competing in America, but the strange thing is he dealt with things better than I did.
I've been through injury and surgery before so I know the road he's got ahead of him, whereas he's never experienced that before.
We also had the next few months planned out, including travelling to Australia [for the Commonwealth Games], so it's just totally changed the next few months.
I also felt guilty for going training. It was hard for me to go out the door to training when I knew that all he wanted to do was go out for a run.
And he was feeling bad, because I was feeling bad.
But obviously my goal hasn't changed. I have to stay focused, and he's been really good about that.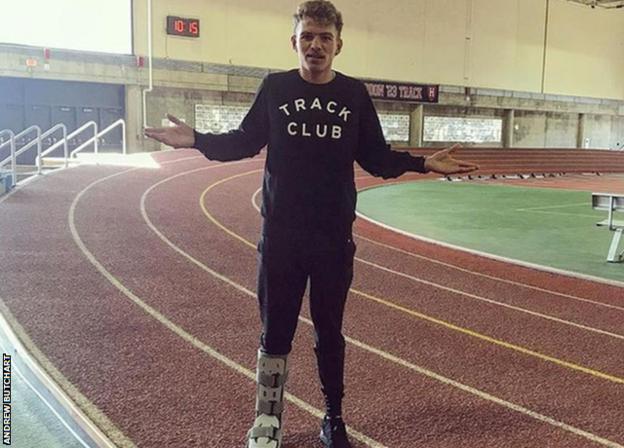 The weekend after Andrew picked up his injury, I had to race in Boston and it was 50-50 whether I raced. I wasn't able to finish my session on the Tuesday beforehand, and I couldn't do my warm-up the day before my race. I was emotionally drained.
The easy thing would have been not to race, but I had to see the bigger picture.
And it was a lesson that no matter what happens, it's a job; I've got to go out and do it. You should never take it for granted that you're able to run.
'It was the right time to move'
It's nice to get a reminder that nothing comes easy. Everything was going really well, we were both loving living out here in San Diego, we were both in really good shape and really excited about Australia. It's a total reality check of never taking this for granted and making the most of every opportunity.
I decided at the end of the 2017 season that after five years in Loughborough, I felt that I needed something a bit different, a different environment, a new stimulus. And I felt like I was at that point in my life where I could make that move. It was the right time.
Terrence Mahon has been my coach since 2013, when he initially moved to Loughborough to work with British Athletics. Even when he left that role a year later and moved to Boston, USA, he continued to coach me from afar.
But then at the end of last year he moved back to his home state of California, and I followed.
I spend most of my life travelling. In 2016 for example, I got to the summer and I think I'd spent maybe less than a total of 30 days at home. So I'm used to travelling a lot and I just felt if I didn't make the move, I didn't want to look back and say, 'well what if I'd done that?'
Obviously it's better if I'm with Terrence on a day-to-day basis rather than making decisions on my own.
And having people to train with has been massive, it helps get that extra bit out of you from each session. Training in the warmer weather is another positive factor.
Although at the moment I'm a training partner down with Andrew's injury...
Lynsey Sharp was speaking to BBC Scotland's Jane Lewis