Geva Mentor: England netball defender says Australia move has raised standard
Last updated on .From the section Commonwealth Games
Geva Mentor believes her decision to make a pioneering move to play netball in Australia is now benefitting her sport back home.
Mentor, from Bournemouth, left Surrey Storm in 2008 to join the Super Netball competition down under, a decision which threatened to curtail her international career.
Two Premiership titles and player of the season accolades have since followed for the 33-year-old in the Australian league during her time with Adelaide Thunderbirds, Melbourne Vixens and now Sunshine Coast Lightning.
"It hasn't been easy, there's been some highs and lows," she told BBC South Today.
"The lowest moment was probably when I made that move to go out to Australia. At the time, England weren't too keen on losing their players, particularly out of the English Super League.
"They wanted to put a clamp on it, basically saying, 'if you go and play elsewhere, you can't play for England'.
"So, it was a real tough decision for me. But, I decided I wanted to be a better netball player and a better person and head to Australia to go and prove that."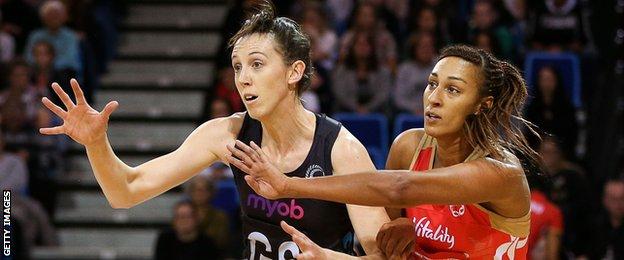 Mentor's dilemma between club and country ambitions did result in her being out of the England team for an 18-month period, but her persistence to keep lines of communication open created a recall.
Back in her native Dorset to visit friends and family, defender Mentor is beginning preparations with England for March's Commonwealth Games on Australia's Gold Coast.
Other England players are now treading the same path as her down under to join Super Netball, something Mentor believes is raising the standard.
"It's great to see so many other girls playing well here in England for their Super League teams and getting recognised in Australia, which is a professional league," she said.
"They then play over there, improve their netball, come back into the English system and lift the standard. That's what we want at the end of the day."
"England is still a step behind," she said. "But, in my 17-year career it's definitely started to move in the right direction.
"Previously, the gap between England and Australia and New Zealand was getting wider."