Commonwealth Games 2018: Alex Marshall ready for sixth lawn bowls appearance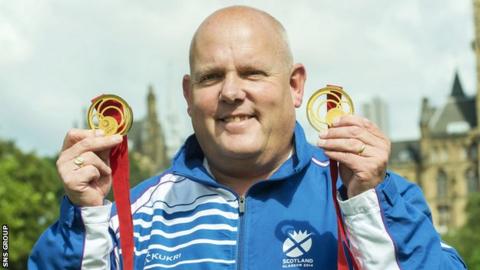 Alex Marshall will make his sixth Commonwealth Games appearance on the Gold Coast next year.
The 50-year-old Scottish bowler will be looking to add to his tally of four gold medals in Australia.
He will be joined in a 10-strong team by two fellow gold medallists from Glasgow 2014; Paul Foster and Darren Burnett.
Foster was a pairs and fours winner along with Marshall, while Burnett is the defending singles champion.
Foster, 44, won the world indoor championships for a fifth time this year and has a pairs gold from the Melbourne Commonwealth Games in 2006.
Caroline Brown and Claire Johnston each return for a third Games, while Kay Moran makes her second appearance, 12 years after her silver medal in the pairs.
Lesley Doig and Stacey McDougall compete for the first time.
Doig, 26, took home silver from the singles at the 2016 world championships as well as a bronze in the pairs.
Bowler Willie Wood holds the record for attending seven Games for Scotland, from 1974 to 2002, missing out in 1986.
Scotland lawn bowls team:
Caroline Brown, Lesley Doig, Claire Johnston, Stacey McDougall, Kay Moran, Darren Burnett, Ronnie Duncan, Paul Foster, Alex Marshall, Derek Oliver
Team manager: Ricky Taylor, head coach: David Gourlay, coaches: George Sneddon, Sandra McLeish.