Commonwealth Games 2022: Birmingham beats Liverpool to lead England bid
Last updated on .From the section Commonwealth Games278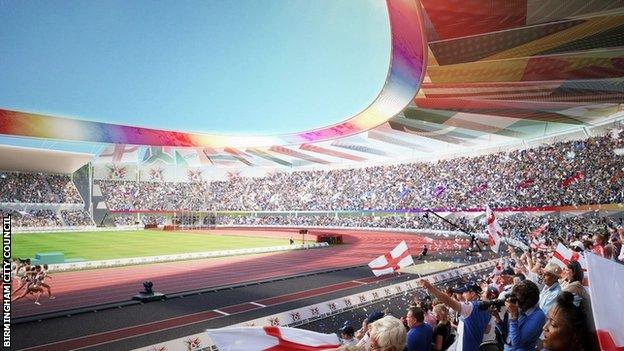 Birmingham has been chosen over Liverpool for England's bid to host the 2022 Commonwealth Games.
The Department for Digital, Culture, Media and Sport has backed the West Midlands city, which would have to convince the Commonwealth Games Federation it should stage the event.
However, it must first be decided whether to go ahead with a formal bid.
Kuala Lumpur in Malaysia is likely to be the main rival after Durban was stripped of the event in March.
The South African city originally won the bidding process in 2015 but the CGF was not convinced it could successfully host the event and started a search for a new host city.
Both Birmingham and Liverpool expressed early interest and put together competing bids.
Birmingham's proposal to create the UK's largest permanent athletics stadium supplemented by four indoor arenas was central to its bid.
"While both bids were of high quality, Birmingham's bid was considered particularly strong on its management of risk, its high quality existing venue infrastructure and its plans for a long term sporting legacy," said sports minister Tracey Crouch.
"The government will look at the final bid proposal from Birmingham and decide if a formal bid will be submitted to the Commonwealth Games Federation.
"We need to be completely satisfied that the bid offers overall value for money from hosting the Games and that a strong economic and sporting legacy can be delivered from it."
The CGF says submissions from candidate cities need to be received by 30 September and its executive board is expected to make its decision by the end of the year.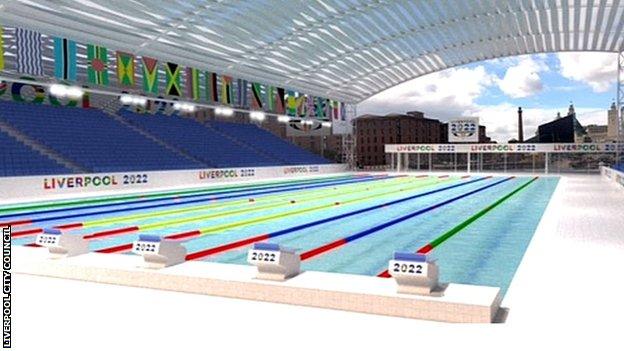 Analysis
BBC sports editor Dan Roan
Having settled on Birmingham rather than Liverpool, the government must now decide whether to actually proceed with the bid and properly commit to it - something it will need to confirm in the next month.
The cost of hosting would be an estimated £500m-£680m, with 75% coming from the Treasury and 25% needing to come from Birmingham City Council. This would be the biggest sum to be spent on staging a sports event in England since the £8.9bn on the 2012 Olympics in London.
There would also need to be a contingency fund of about £100m. Ticket sales and sponsorship would also be expected to bring in at least £120m.
This expenditure won't be without controversy given Birmingham's recent bin workers' strike dispute and concerns over the cost of Brexit - but some experts say the economic benefits of hosting the event will cover the costs.