Jemma Simpson considers retiring from athletics after Glasgow 2014
Last updated on .From the section Commonwealth Games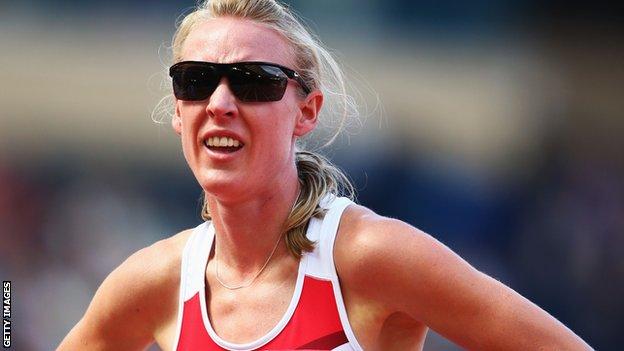 England's Jemma Simpson is considering whether to quit athletics.
The ex-Newquay and Par runner, who bases herself in Oregon, said she is deciding whether to continue.
"It's whether I go for that or choose a different career path and try something new. That's a decision I'll make in the next few weeks and months," she said.
"The 1500m was a new event for me this year and it was something I enjoyed and something I could get my teeth into, but I'd have to work a hell of a lot more on my endurance to be able to cope with racing at such a high level," she told BBC Radio Cornwall.
The final in Glasgow was the first time she had run in a major 1500m final, and Simpson felt that she performed well.
"On reflection I think I was kind of happy with it, but it's disappointing not to be a bit more in the mix when the gun went off.
"What I am proud of is that I nearly retired at the end of last year and I kept going for one more year and took it week-by-week.
"I found myself making the indoor team for the world indoors. I won the national indoor title at 1500m and I came outdoors and made the Commonwealth team and made the final.
"Overall I feel it was a successful year considering I nearly stopped running at the beginning of it."